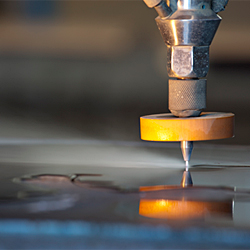 "For cutting glass and glass laminates, we've found the waterjet provides the smoother cut and superior edge quality which we and our customers require. We can offer a better product faster, and also provide precision cutting services to our customers."
Reading, PA (PRWEB) August 02, 2012
American Polarizers Inc. (API), a world leader in the manufacture of polarized filters and other optical products, has announced the acquisition of a precision waterjet cutting machine to be used in the fabrication of the company's polarizing glass filters and other light filtering/polarizing products. Additionally, API will now offer waterjet optical glass cutting services in addition to film and plastic laser cutting.
Waterjet cutting is accomplished using a very thin stream of water. This enables high precision cutting and facilitates speed and accuracy on intricate shapes and details, tight radial corners and piercings. Because the water stream is so fine, there is very little loss of material which is an added benefit when cutting high-end optical glass. The software used with API's new machine makes it possible to cut virtually any shape that can be conceived and drawn into the program.
"We've used laser cutting equipment for years," said API sales manager, Les Fasnacht, "and lasers are excellent for plastics and films. But for cutting glass and glass laminates, we've found the waterjet provides the smoother cut and superior edge quality which we and our customers require."
Typically, waterjet cutting operations are set-up for rapid cutting of a wide range of materials such as steel, aluminum, composites, glass and others. This approach often yields acceptable results for some materials but gives sub-optimal quality and even chipped edges on glass substrates. Chips can adversely affect the way light is refracted and reflected, and chips can also propagate and cause a fracture.
Configured especially for cutting optical glass, API's waterjet cutting service leaves a chip-free finish with smooth edges so that no grinding is needed. The elimination of the need for secondary finishing processes saves time and helps reduce production costs. Additionally, waterjet cutting does not generate any heat build up resulting in zero change in material properties.
Previously, said Fasnacht, API had to farm out special glass cuts. He explained, however, that with the specialized use of the waterjet, API has increased cutting precision and detail capability. "And since the machine is in house," said Fasnacht, "we have improved our turnaround times. Not only can we offer a better product in less time, but we can also provide the same precision cutting services to anyone with optical material cutting requirements."
For more information or technical assistance please contact API, 141 South Seventh St., Reading PA 19602. Tel: 610-373-5177. Fax: 610-373-2229. Email sales(at)apioptics(dot)com. Web: http://www.apioptics.com
About American Polarizers, Inc.
American Polarizers is a 2010 Benjamin Franklin Technology Partners Innovation Award winner. Providing innovative optical technology since 1960, American Polarizers supplies products not only for 3D presentation purposes such as in universities and theaters, but also for industrial applications including aerospace/aviation, imaging, inspection/identification, medical/biomedical, nondestructive testing, quality control and test and measurement. The company also offers their 3DLux high-end 3D eyewear and many value added services such as inventorying custom products and just-in-time delivery.
3DLux is a registered trademark of American Polarizers Inc., Reading PA