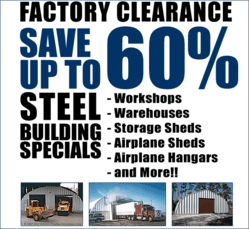 Go Green, Save Green!
Deerfield Beach, FL (PRWEB) August 01, 2012
A couple decades ago the term "steel buildings" would just be thought of a big skyscraper like the Empire State Building taken years to build at location. International Buildings has open it doors and with offers new innovations in technology; by simply picking up the phone and it's now possible custom order any steel built building prefabricated for any structural project. International Buildings has made their goal to deliver the right product to the consumer these steel kits can be for residential, commercial, and agricultural use with such things as homes, outbuildings, carports, offices, horse barns, pole barns, aircraft hangars, storage sheds and more.
Just a few years ago a majority of these projects where made from wood but with the propagation of mold, mildew, and termites in residential buildings the use of steel minimizes and in some cases have eliminated these problems. Steel has also become more popular with its strength, durability, and resilience. Kits come base on unique specifications on shapes, size, colors and finishes; with an incredible 50 Year Manufacturer Warranty!
Residential - from protecting vehicles to valuable collections the ultra-tough diy buildings:

Carports
Storage Sheds
Garages
Workshops
Homes
Recreational - engineered to withstand the harshest environment on earth:

Sport Buildings
Boat / Jet Ski
RV Storage
Aircraft Hangar
Motorcycle
Commercial - easy-to-construct building kits are perfect for any building application providing extra storage space for your services and goods.

Body and Repair Shops
Storage / Service Building
Retail Store
Commercial Storage
Park Maintenance
Agricultural - versatile building kits for equipment storage and farming are an alternative to common pole barn due to easy construction and durability.

Livestock
Hay Storage
Grain Storage
Horse Barn and Stall
International Buildings LLC.
Customers around the world are getting the best "green" choice of attractive, environmentally friendly structures with unlimited custom design flexibility and 100% usable space crafted from the world's finest, sustainable Galvalume heavy gauge steel backed by a 50-year warranty. Go green, save green! There's a world of difference between dealing with a middleman and buying factory direct from International Buildings' own state-of-the-art manufacturing facility providing great value and fast delivery worldwide.
Steel Building Specials: http://steelbuildingsus.com