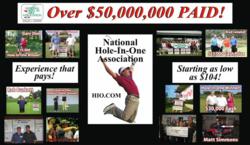 As an event planner of many tournaments, National Hole-In-One is the only company I trust. They are by far the best! This new system is great!
Dallas, Texas (PRWEB) August 02, 2012
National Hole-In-One Association , the world's leading hole-in-one prize provider announced today the release of the most dynamic hole-in-one quoting system available online. This golf tournament prize quoting system features a state-of-the-art interface that streamlines the quote and policy process for all new and existing customers. Once registered, an individual in the United States or Canada has unlimited and 24 hours a day access to secure online quoting and purchasing tournament contest insurance.
Features of this new system include the ability of choosing from two contracts: an industry standard contract or National Hole-In-One's unique traditonal contract which offers extended coverages such as allowing Ladies to play from the Ladies tees, allowing shots less than 130 yards, coverage of holes-in-one made from less than the insured distance. When booking events online, one can also add or remove bonus prizes, signs and more. Initially, a new customer will create their own secure login and once registered, they are to update their information, veiww past orders, and pending quotes.
Another unique benefit of the hole-in-one quoting system is their one click shopping option. Clients are able to quickly process new orders in a couple of minutes. Previous buyers can view the past orders and by selecting a previos event, a new tournament can then be customized such as changing signs, updating prize information, number of golfers, tournament dates, prize holes and more. The user-friendly interface allows for a much faster and complete process, enabling the tournament organizers and sponsors to focus more of their valuable time on the event itself.
National Hole-In-One continues to be the frontrunner in providing affordable and turnkey prize programs that add excitement and security of offering large prizes at golf events. These "tournament in a box" programs help sponsors inexpensively promote their business within local markets and help charities raise more funds. National Hole-In-One pioneered the affordable prize coverage concept called "hole-in-one insurance" in 1981 and offers a highly competitively prize package starting as low as $104. Additionally, National Hole-In-One is the only prize company to offer two contracts. They offer a wide selection of custom signs, bonus prize options, tournament merchandise, putting contests and $1,000,000 shots to help an event maximize fun, excitement and fundraising.
When asked why the company went to such great lengths making a somewhat complicated system so easy, Doug Burkert, National Hole-In-One's President, commented, "We wanted to give our customers what they we're asking for....round the clock access to all the features we offer . This new system has really raised the bar high for customer service in our industry."
About National Hole-In-One Association:
National Hole-in-One Association with offices in Dallas and London, is the World's original and largest provider of hole-in-one insurance for golf and other sporting events. Since 1981, the organization has insured more than 300,000 events and awarded in excess of $50 million in cash, prizes, and cars! Five individuals, including Lee Trevino and Tom Kite, have won $1 million prizes through the organization. Grand Prize Promotions, the sister company of National Hole-In-One covers all prize contests outside of golf. Grand Prize Promotions covers prize insurance programs which include field goal kicks, basketball shots dice rolls, safe cracker prize vault and over 100 different prize contests. For additional information about their services please visit: http://www.hio.com