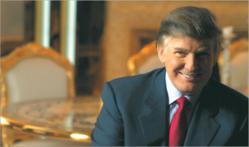 Whatever your opinion of Mr. Trump, here are some key observations that are without dispute.
Potomac Falls, VA (PRWEB) August 01, 2012
Washington, DC-area executive and author Rich Moore today announced the release of an article focused on practical business tips that were derived from observing businessman and celebrity Donald J. Trump.
Commenting on the origin of the article, Moore stated that, "having met Mr. Trump early in my career, watching him in the media since then and now as a golf club member watching his renovation of a premier property along the Potomac River, it became clear there are excellent business lessons that can be drawn from his public activities."
The article, entitled "What I've Learned Watching Donald Trump," is available through the following link: Article. Business "lessons learned" draw on witnessing the actions of Trump and his success by thinking big, seeing value, attention to detail, taking a strong position on matters and more.
In addition to being a member at Trump National Golf Club Washington, DC, the author is President of Rich Moore, Inc. where he is a CEO advisor and board member with multiple private and public companies. http://www.linkedin.com/pub/rich-moore/3b/b2b/83a
###