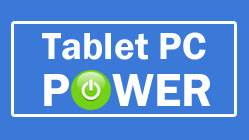 (PRWEB) August 07, 2012
Owners of tablet computers have been asked to put their fierce rivalries on hold for a while and instead unite on what promises to be the hot new home of Tablet Computer news, reviews and the latest rumors. TabletPCPower.com promises that right from the get-go it will be one of the most trusted resources on the internet for up to the minute information on the world of Tablet Computers.
Offering fresh daily content with an emphasis on personality, Tablet PC Power has made it its mission to deliver an informed look at the tablet computer market. Unlike most other tablet-focused websites, TabletPCPower.com offers an insight into all tablet computers, whether you own that cheap tablet that was purchased from eBay or an iPad, as well as everything in between. The writers deliver content in an engaging and edgy style – this lets the readers know that you are getting an honest review rather than something churned out to please tablet manufacturers.
Site founders Gina Prescott and Barry Whitman have promised a 'no holds barred' approach to their writing. The writers of TabletPCPower.com aren't here to make any friends, if they have an opinion they will make sure it is heard – no matter who disagrees with it. There are no favourites here, and that means no bias. This means that every single piece of writing on the website is incredibly honest, and whether you agree or disagree with it you are certainly in for an exciting and informative read.
Owners, lovers and haters of tablet computers who wish to experience the internet's hottest and edgiest new source for tablet information, news, reviews, rumors and so much more are invited to visit TabletPCPower.com right now. No membership is required which means they will instantly be able to experience the most honest content on the subject to be found anywhere on the internet.
About TabletPCPower.com
Site owners Gina Prescott and Barry Whitman have teamed up again to deliver content through the internet in a way that has never been seen before. Gina's journalism background and Barry's love of all things technical has paved the way for the creation of a website that provides well written articles that are jam-packed with all of that technical knowledge that other websites seem to miss out on. The founders of the site, coupled with the rest of their team are getting geared up to deliver some of the boldest and edgiest views ever seen on the world of Tablet Computers. Learn more on the website http://www.tabletpcpower.com.