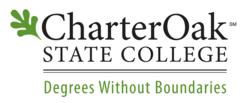 New Britain, CT (PRWEB) August 01, 2012
Registration for the 2012 fall semester has begun at Charter Oak State College, Connecticut's public online college for adults completing bachelor's degrees. Full semester, Term 1 and Session 1 classes begin on August 27, and registration deadline is August 22.
An open house event is scheduled for August 15, and an open registration event is scheduled for August 17. Students can register for fall semester courses by visiting CharterOak.edu/career. Prospective students can enroll at the college at any time year-round.
The open house will take place on August 15 from 4 to 7 p.m. Students will have an opportunity to meet with admissions counselors, faculty and alumni, take part in online course demonstrations, and register for fall courses. Refreshments will be provided. The open registration event will take place August 17 from 11 a.m. to 2 p.m., and is geared towards accepted applicants who have not yet registered for fall courses.
Both events will take place at the College's administrative offices, located at 55 Paul Manafort Drive in New Britain. Please RSVP to admissions (at) charteroak (dot) edu.
Charter Oak offers 16 concentrations that can be completed through the exclusive use of online courses, including Business Administration, Criminal Justice, Health Care Administration, Information Systems Studies, Organizational Leadership and Public Safety Administration.
Join Our Weekly Chats
Have questions but can't come to the College in person? Weekly online chats are a convenient way to learn more about finishing your degree. Chats are held every Monday from 1-2 p.m. EST. Simply go to CharterOak.edu/livechat to join. Enrollment service counselors will be in the chat room to answer admissions-related questions and to talk about the College.
Founded in 1973, Charter Oak State College (http://www.CharterOak.edu) is Connecticut's only public online college, offering associate and bachelor's degree completion programs in high-demand fields including Health Care Administration, Public Safety Administration, Business Administration, Information Systems and more. Charter Oak students complete degree programs through online courses and alternative approaches to earning credit. Charter Oak is accredited by the New England Association of Schools and Colleges and governed by Connecticut's Board of Regents for Higher Education.