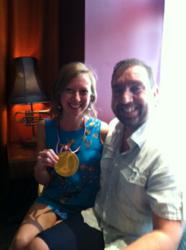 London, UK (PRWEB UK) 14 August 2012
Superstars are so excited about the London 2012 Olympics and Paralympics, an event we can all take pride in and celebrate the achievements of some extraordinarily dedicated and talent individuals.
In order to award the amazing people who work for Superstars every day, providing their clients with truly fabulous work, Superstars decided to give some special individuals their very own gold medals, just to show how much they are loved and appreciated.
The first was presented by Superstars founder Steve Hutson to the lovely Clare Goatham, who has been working for Superstars since their inception in 2011.
The other Gold Medal recipients may be viewed on the Superstars blog (http://superstars.posterous.com/superstars-celebrates-the-olympics-with-gold).
Superstars is based on a unique new staffing model that eliminates fees and margins forever. Clients work with Talent Managers to get the best staff for their needs and the Talent get amazing opportunities and the best support and mentoring in the industry.
Superstars' clients include BSkyB, Orange, Infosys and Radical Company with more being added all the time.
To find out more about Superstars' unique staffing model and how it can transform the way you hire staff, contact Steve Hutson - steve(at)homeofsuperstars(dot)com or visit http://www.homeofsuperstars.com