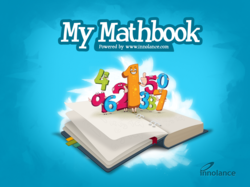 Drop your school books, and pick up technology!
Herndon, Virginia (PRWEB) August 15, 2012
An exciting iPad app for children is here! It's called MyMathBook. Innolance, a leading Mobile apps development company in the US, has put together this innovative, fun filled, educational application for young growing minds. The MyMathBook app is perceived to revolutionize the way children approach learning math and is available to everyone.
Innolance's MyMathBook is a fantastic way for children to learn the fundamentals of Math in a fun-filled way. It has embraced 3 critical techniques of Audio, Video, and Tactile learning. It incorporates various interactive animations and illustrations to invoke children's interest of learning Math, making it much more than just a math lesson. Innolance has combined MyMathBook into one, simple, fun to use application that children will want to embrace.
The purpose of MyMathBook is to teach children and create the foundation for learning. It will also help introduce new technology into their lives. The app is retina display optimized to present the content in high definition.Current version of the app is for iPad only and an iPhone and Android version are under development. The MyMathbook has a Lite version which is free , but will have limited functionality and an HD version which is available for purchasing in the app store for $1.99. It is expected to be available to the public by August 24, 2012
Innolance is an IT service oriented corporation based in the Washington D.C. area that is dedicated to offering Innovative Technology solutions to our customers. Our company focuses on Mobile and Web Application Development as well as Quality Assurance for various verticals. As a company, we strive to be the leader in our industry by providing our customers with the most dynamic and unique business services available in today's market.