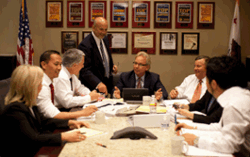 Hopefully we will continue to lower our rate of alcohol related traffic deaths even as our numbers of drivers and miles driven increase. Please remember to buckle up. Use of seat belts by all involved may have prevented this tragedy
Orange County, CA (PRWEB) August 01, 2012
According to the Ventura County Star*, a California police officer was killed in an off-duty drunk driving auto collision recently. Kimberley Hemminger was a five-year veteran of the Santa Paula Police Department as well as the Ventura County mounted unit.
Christopher Blankenship was arrested on suspicion of felony DUI and vehicular manslaughter in connection with the collision. Mr. Blankenship was driving a Jeep, with officer Hemminger as a passenger when he reportedly lost control of his 1984 Jeep Wrangler.
After his release, Mr. Blankenship was released from Ventura County Jail on $50,000 bail.
According to the 2009 California Statewide Integrated Traffic Records System (SWITRS), 2,805 people lost their lives and 163,524 people were injured in California auto collisions during that year. Of those killed, 1,146 were alcohol related.
Comparatively, SWITRS statistics from 2003, 2004, and 2005 show 1,274, 1,326, and 1,387 alcohol related fatal auto accidents.
John Bisnar, California auto accident attorney, has been assisting auto collision victims since 1978 and has noticed an overall improvement in alcohol-related collisions during his years of practice. "What happened to these officers is extremely unfortunate and I am sure that their loss has been difficult for their entire community. My condolences go out to Hemminger's family and friends. Although drunk driving car accidents are still killing thousands of Americans on a yearly basis, there are significant signs that motorists are becoming more aware of the dangers inherent in driving while intoxicated and avoiding doing so."
"Hopefully we will continue to lower our rate of alcohol related traffic deaths even as our numbers of drivers and miles driven increase. Please remember to buckle up. Use of seat belts by all involved may have prevented this tragedy," says Mr. Bisnar.
About Bisnar | Chase Car Accident Lawyers California
Bisnar | Chase is a car accident law firm located in Newport Beach, California. Bisnar | Chase attorneys have assisted thousands of injury victims and have done so with a 97.5% success rate.
For more information about the Bisnar | Chase law firm, or to obtain a free professional case evaluation, call 800-561-4887 or visit http://www.bestattorney.com
*Ventura County Star:
vcstar.com/news/2012/jul/24/santa-paula-officer-killed-in-dui-crash-died-of/