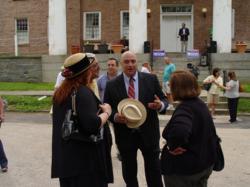 (PRWEB) August 02, 2012
Election season is upon is and with it brings petitioning, fund raising, events to raise awareness, lawn signs and endorsements. Last week South Shore Democratic Assemblyman hopeful Anthony Mascolo has received the endorsement of UFCW Local 1500. The candidate graciously accepts the endorsement.
The United Food and Commercial Workers Union Local 1500 boasts 23,000 members, making it one of the largest UFCW unions and the largest in New York State. The working class people of the Bronx, Staten Island, Queens, Brooklyn, Manhattan, Suffolk, Nassau, Westchester, Putnam and Dutchess counties are all represented through Local 1500 working for companies that have a long relationship with the state. Stop & Shop, King Kullen, D'Agostinos, Pathmark, Edward's, Gristede's, Key Food and Shop Rite are business' whose workers are represented by the UFCW. Current Union president Bruce W. Both also serves as International Vice President of the UFCW international Union as well as being a member of the New York State Food Policy Council. The UFCW1500 and Mr. Mascolo share a genuine pride and care for the local New York community and the workers whom make up the community and help businesses thrive.
The burden placed upon college students forced to take out loans is another concern both parties share since upon completion they will join the work force. Local 1500 announced that $25,000 was to be received by twelve students for the 2012 College Scholarship. Five of these recipients are going to school with the help of these funds while already working in Local 1500 stores.
This endorsement marks the beginning of a long and fruitful partnership between two parties looking out for the working middle class. Wages, right's, benefits and opportunity for our young college bound students and graduates alike are the cornerstones for which our society can and will continue to thrive.
UFCW Local 1500 represents 23,000 grocery workers in New York State. Members are employed by Stop Shop, Shop Rite, Pathmark, King Kullen and Fairway. Their members live and work in Long Island, the five boroughs, Westchester, Putnam and Dutchess Counties.
If you'd like more information about this topic, or to schedule an interview with Anthony Licciardello, please contact Anthony Licciardello at AnthonyL(at)VoteMascolo(dot)com
VoteMascolo.com