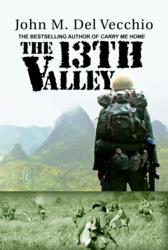 The first Viet Nam combat novel to demand—and deserve—comparison with Norman Mailer's The Naked and the Dead. —Philadelphia Inquirer
North Hills, California (PRWEB) August 01, 2012
WARRIORS PUBLISHING GROUP (WPG) – Forty-two years ago, award-winning author John M. Del Vecchio was a soldier in the famed 101st Airborne Division sent into an enemy stronghold in northern South Vietnam. His experiences fighting a brutal battle against a determined enemy in a jungle-covered valley near the Laotian border eventually became the celebrated war novel titled "The 13th Valley," and won him worldwide acclaim as a writer in the mold of Norman Mailer and other literary veterans who have chronicled their wartime experiences.
When "The 13th Valley" was originally published in 1982, it hit readers with all the impact of an incoming mortar round. The book was widely touted as one of the best war stories ever written. "Del Vecchio has constructed a classic war novel," said the Chicago Sun-Times, "a complex and frightening book that gets it right from accurate dialogue to brilliant description to warm and human characterization." Del Vecchio's book enjoys a place of honor on thousands of bookshelves, and veterans have passed dog-eared, underlined copies around among themselves for years.
"This important and impactful book has been out of print for too long," said Julia Dye, the senior editor and publisher at Warriors Publishing Group (WPG), "and we're very excited about getting it back into circulation so that a new generation of veterans and other readers can enjoy what John has written." Warriors Publishing acquired the rights to "The 13th Valley" and is releasing the book in August in both hard copy and digital formats.
"The 13th Valley" is available through Amazon and http://www.warriorspublishing.com.
For more information or to schedule an interview with John M. Del Vecchio, contact Julia Dye, Warriors Publishing Group at 818/349-6640 or info(at)warriorspublishing(dot)com