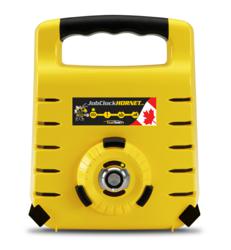 We're so excited to bring this type of advanced workforce management to Canada.
Calabasas, CA (PRWEB) August 01, 2012
Construction's #1 time and attendance provider ExakTime announced this morning that it has officially released its industry-leading wireless time clock to Canada, extending the reach of its rugged, wireless JobClock Hornet to cover more jobsites than ever before.
Most labor-intensive, outdoor industries rely on costly handwritten, paper time cards to track labor – an outdated timekeeping method that inflates payroll and costs companies thousands of extra dollars. Paper time cards also make it difficult for bookkeepers to collect and manually enter work records in time for payroll.
ExakTime's wireless JobClock Hornet solves those problems.
The weatherproof unit is housed in a rock-solid, ABS plastic composite shell and tracks workers, job activities and job locations in real-time. Every hour, JobClock Hornet automatically sends 100% accurate digital time records to offices, wirelessly, so management can make quicker job adjustments based on timely information.
No more guesswork. No more time theft. And no more driving to collect time records.
JobClock Hornet is bulletproof simple and runs on a 30-day rechargeable battery, making it easy for field employees, bookkeepers and supervisors to use.
It debuts in Canada using the highly reliable Rogers™ Network for wireless record transmission. Rogers provides the widest range of cell coverage for Ontario, Quebec, British Columbia, Alberta, Saskatchewan, Manitoba and other Canadian provinces.
"Our valued Canadian customers have been asking about this for several months, and today we're excited to be releasing JobClock Hornet into Canada," said Tony Pappas, ExakTime's CEO. "Now, our Canadian market can work on payroll throughout the week, not just at the last minute, know who's at a jobsite, know when someone's about to hit overtime, and so much more, all without stepping foot outside the office.
"We're so excited to bring this type of advanced workforce management to Canada."
Released domestically in January 2012, JobClock Hornet has won the Good Design Award and taken home the Editors' Choice Award for Most Innovative Product at World of Concrete 2012, the industry's largest trade show in the United States. It has recently been nominated for the 2013 German Design Award as well.
"It's amazing how easy it is to get time records from the field," says Gaby Mendez, Barber Webb Co., Los Angeles. "We've saved time, cut down on paperwork and saved money in payroll, too. I'd never go back to paper time cards!"
------
Founded in 1999, ExakTime is the leader in wireless, mobile and rugged time and attendance solutions for construction, landscaping and maintenance contractors as well as mobile employees and workers in industries such as transportation, agriculture, energy, oil and gas and more.
For more information, visit: http://www.exaktime.com.