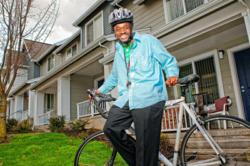 Our social media campaign is focused on bringing the benefits of biking to New Columbia residents, a vibrant Portland community.
Portland, OR (PRWEB) August 08, 2012
The Community Cycling Center announced today a social media campaign to support their plans to build a Bicycle Repair Hub in collaboration with the community of New Columbia. New Columbia, built originally as housing for World War II shipyard workers, is now a vibrant, mixed income community in North Portland. The Bicycle Repair Hub will provide low-cost bike repair to residents young and old. This project is being supported with a gift from The Bike Gallery, a local Portland company, as well as Bikes Belong, the Portland Development Commission, and many individual donors. The Bike Gallery is an active supporter of many community efforts and will provide a matching grant to help with overall costs of the program.
Combining marketing expertise from Samantha Swaim Fundraising and social media software for cause marketing from CafeGive, the Bike Gallery and the Community Cycling Center are working together to raise $10,000 before the end of this month for the center. The Bike Gallery will provide $1 for every $2 raised for the project this month, making the total raised $15,000.
Visit The Bike Gallery or Community Cycling Center on Facebook, donate and share the campaign with friends, and track the campaign's progress over the month.
The center will be built with a focused effort of the Portland community in just 10 short days, starting August 20th and completing August 31.
Jay Graves, owner of The Bike Gallery, is an ardent supporter of the project. "We are able to accomplish so much through our partner collaborations, simultaneously removing barriers, building community, and showing a different way for bicycle organizations to engage," Graves says. "The new Hub extends biking as a culture and community effort in Portland, and The Bike Gallery is proud to support it."
"Our community programs bring access to many individuals in the Portland area, and I invite our supporters along with Bike Gallery customers, to support the Bicycle Repair Hub by making a gift online during this campaign. We are thrilled to have received such generous support from Samantha Swaim, Cafegive, and The Bike Gallery and I hope their dedication inspires others to support this project as well." Breesa Culver, Development Manager, Community Cycling Center
"It is our pleasure to work with a great team on this project, and utilize our cause marketing applications to enable online fundraising and support this community need. " added Sandra Morris, CEO of CafeGive.
Samantha Swaim Fundraising is an award winning event and fundraising strategy organization. This program was developed with her guidance and strategic oversight, and takes advantage of CafeGive's social marketing platform and web and social media applications. By using CafeGive, organizations can grow and deepen their reach with supporters long term.
About CafeGive
CafeGive connects businesses, causes and the people who care about them through social media applications. CafeGive Social is a suite of cause marketing applications used by businesses, digital agencies, and nonprofits to create branded cause marketing campaigns on websites and Facebook. CafeGive social solutions showcase and encourage donation stories, promote charitable works and cause marketing programs while building consumer awareness and loyalty. CafeGive is headquartered in Portland, Oregon. For more information visit CafeGive
About Samantha Swaim Fundraising, LLC
Samantha Swaim Fundraising LLC believes that dedicated groups of people can change the world. And that non-profits are at the center of that change. The company has helped over 70 organizations raise more than $60 million for their worthy causes, is a member of the International Special Events Society, the Nonprofit Association of Oregon, Willamette Valley Development Officers, Pride Professional Alliance and and received a 2011 Small Business Administration Award.
About The Bike Gallery
The Bike Gallery is Portland's local family-owned bike store since 1974. Their goal and dedicated staff is to make sure that more people enjoy being on bikes more often. There are seven locations in the Portland area to bring this goal to fruition. The Bike Gallery is a strong supporter of community through donation, volunteerism and sponsorship of local causes, many in support of biking. Visit http://www.thebikegallery.com to learn more.
About Community Cycling Center
The Community Cycling Center, founded in 1994, broadens access to bicycling and its benefits. Our vision is to build a vibrant community where people of all backgrounds use bicycles to stay healthy and connected. As one of the oldest community bike shops in the United States, we build healthy communities by helping thousands of people ride safely. For more information, visit http://www.CommunityCyclingCenter.org.