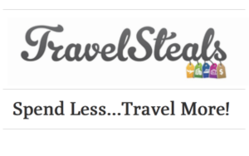 There are deals if you search online, but who has time to search? Aggregators make it much easier to find a deep discounts on travel deals.
Reston, Virginia (PRWEB) August 07, 2012
TravelSteals.com is a flash sale aggregator dedicated to syndicating the best online travel deals and is rapidly becoming the most popular site for consumers looking to travel more while spending less.
The flash sale industry has developed rapidly and competition becoming a problem for the big name companies that once offered deep discounts on everything you can think of. They started by selling clothing, accessories, and furniture, but the industry is transitioning into niche markets. The big names like Gilt.com and RueLaLa.com are still offering a variety of products, but most new companies that enter the flash sale industry are focused on specific verticals like furniture, baby supplies, and travel. This allows them to segment a smaller target audience that is more likely to be attracted to their daily deals.
Travel is one of the fastest growing niche markets and these sites offer several daily deals on deeply discounted vacations and hotel packages. The biggest names in the daily deal industry have started offering discounted vacation deals, but small companies remain successful due to their dedication to the space. The competition for these deals is widespread and consumers often miss out on opportunity due to the overwhelming number of sites they'd have to visit to see them all.
Trevor Soares, TravelSteals CEO, says "Consumers are not going to visit 50 sites a day to find a great vacation deal, so why compete so aggressively for their attention. Smaller flash sale sites are drawn to the idea of placing their deals on TravelSteals and fighting for the attention of consumers by offering the best deals. Consumers get more options and competition keeps the best travel deals from getting stale".
Spontaneous decisions to take a vacation are much more likely when travel deals are discounted from 40%-90% off retail price. By having a wider variety of deeply discounted travel deals, TravelSteals.com becomes a more valuable resource for travelers by allowing them to visit one discount travel website instead of fifty. Travelers save time and money, which is important to online shoppers. Browsing travel flash sales with TravelSteals.com is much simpler and more likely to become a habitual online activity.
TravelSteals.com is a member only service, but offers free registration to the site. Registration allows the site to gather personal preferences and purchase history, which in turn leads to better personalization. To learn more about TravelSteals.com, please visit us at http://www.TravelSteals.com
###