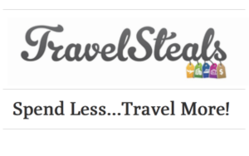 We level the playing field and put pressure on travel sites to offer the best deals in order to get our consumer's attention.
Reston, Virginia (PRWEB) August 09, 2012
TravelSteals.com's unique way of displaying the best travel deals is dramatically increasing the number of great deals travel sites have to offer. In the past, a company could get by on its reputation and brand recognition. Big companies relied on the fact that customers trust them and trust that the deals they are putting out there, really are the best.
The big guys could put a great deal out during non-peak travel times and bank on the fact that customers would pay full price during peak travel times. This brought in massive profits for travel companies and helped keep airlines and hotels full. Consumers didn't necessarily benefit from this, but going to the big sites saved them lots of time and energy that they would have needed to invest into wading through the wide variety of smaller travel deal sites.
Fortunately for consumers, flash sale aggregators have changed all of this. Flash sale aggregators like TravelSteals.com have leveled the playing field by placing deals from both big travel sites as well as little travel sites all on one site.
Consumers can now look at all of the best deals at once without having to seek out the more obscure travel sites on their own. Since the deals are all displayed on one website, potential customers can quickly and easily find the best deals from each site and choose the one that best fits their travel plans as well as their budgets.
This increased competition has forced travel companies from all over the world to improve their value to their customers. Even the large travel sites know that if they do not provide great value at a great price, they can and will lose out to the travel companies that do.
TravelSteals.com is the place to go to find all of the best travel package deals in one spot. Companies know that when they list their deals on TravelSteals.com, they have to list their best offers. These companies know that they will be doing head-to-head business with all of their competitors and know that they simply cannot afford to post phony bargains.
Signing up with TravelSteals.com is a free and easy process that makes signing up a no-brainer. As a result, travel enthusiasts from all over the world are constantly signing up and companies cannot afford to skip over placing deals on this site.
To see for yourself just how easy it can be to save money on great travel arrangements, please visit TravelSteals.com