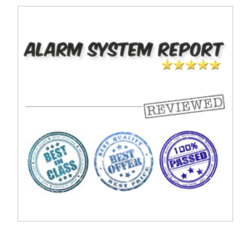 knowing why a company was given a particular rating is just as important as seeing the actual rating
Reston, VA (PRWEB) August 02, 2012
Technology has made life much better for all of us, but its also made life a lot more complicated. It is becoming increasingly hard for consumers to choose which products to buy and which products to skip over. This is doubly true when it comes to choosing among new technologies.
Review sites initially helped with this problem. They reviewed different alarm system companies and told consumers which ones to buy. Unfortunately, many of these sites rated alarm companies based off of which companies gave them the biggest kick-back. This has made consumers wary of review sites and making a purchasing decision has become even tougher. How can a consumer trust a review site that makes recommendations based off of their affiliate commission rates?
Luckily, AlarmSystemReport.com has come to the rescue. This website goes over all of the best alarm systems in a way that is as unbiased as it is unique. AlarmSystemReport.com hired a multitude of alarm system experts to review all of the top alarm systems on the market. They then had these experts independently submit their alarm system reviews so that each company could be ranked.
In addition to this, AlarmSystemReport.com searched through social sites like Yelp and Angie's List to see what regular customers thoughts were on each of the top alarm systems. Social proof was combined with the expert's opinions to form five star ratings for the top ten alarm companies on the market. These companies were then placed in order of the best alarm company to the worst alarm company and are now listed on AlarmSystemReport.com
On top of all this, AlarmSystemReport.com has also created detailed reports on all of the top alarm companies. They go through all of the positives and negatives of each alarm company so consumers can choose the best alarm company for their individual needs. Because of this, consumers that check out AlarmSystemReport.com before choosing an alarm company to go with, always end up saving both time and money.
As Trevor Soares, the CEO of AlarmSystemReport.com says, "knowing why a company was given a particular rating is just as important as seeing the actual rating". This is true for all types of ratings and in the future we'll probably be seeing a lot of other review sites emulating what the founders of AlarmSystemReport.com are already doing.
Visit AlarmSystemReport.com and you won't just get an unbiased recommendation, you'll get well-researched and thought provoking reviews designed specifically to help you get the best home alarm system.