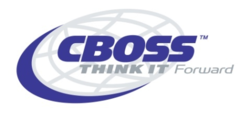 We not only used our improved customized capabilities for our newly designed website, but we can now pass these enhanced features on to our clients
Boardman, OH (PRWEB) August 01, 2012
CBOSS, Inc., a recognized global technology and software developer leader, has launched its newly redesigned website, showcasing its content management expertise that CBOSS has shared with its clients since 1994.
"Our newly–redesigned website has the most up-to-date information on our solutions and services and features the latest cutting-edge Microsoft technology and user-friendly tools on the market today," explains James DeRosa, CBOSS product manager. "Not only are we excited about our fresh new design, but we are proud of our improved navigation capabilities."
The new website boasts many features that are noted as being the most forward-looking in the industry today such as responsive layouts, mobile device compatibility, localization support and social media integration.
The website is an example of the custom solutions CBOSS provides, ranging from website design to e-payment solutions to content management. "We not only used our improved customized capabilities for our newly designed website, but we can now pass these enhanced features on to our clients who can easily implement them," adds James.
The revitalized home page easily identifies major areas of interest such as Secure Online Payments, Content Management Solutions and Hosted and Managed Services
The goal of the CBOSS team of professionals, who have more than 100 years of combined experience, is to offer a seamless interaction for its clients and general site visitors.
"We encourage visitors to our new site (http://www.cboss.com) to learn about the custom solutions and services we provide," adds James.
CBOSS, based in Boardman, Ohio, is delivering results to clients in 20 states, plus Latin America, with hundreds of implementations. CBOSS is well known for its management of the Ohio Bureau of Motor Vehicles (BMV) OPLATES.com website, which includes the processing of all online payments for license plates from the site. CBOSS has provided the State of Ohio with these services under contract since 2000.
About CBOSS
From enterprise software solutions to managed services, CBOSS specializes in the design and implementation of portal solutions for e-payment processing, workflow automation and content management using industry-standard platforms and tools. Since 1994 over 700 businesses and government agencies have looked to CBOSS to deliver feature-rich services and solutions that are cost-effective, reliable and secure. CBOSS has renewed its Level I compliance with the Payment Card Industry (PCI) Data Security Standard, which provides the highest levels of security for e-commerce and other e-payment processing services. CBOSS also achieved a new certification in globally accepted international accounting standards, the Statement on Standards for Attestation Engagement (SSAE) 16 Type II.
Visit them at http://www.cboss.com.