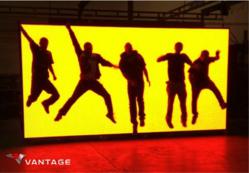 "I'm proud to be part of a team that has the resources and foresight to do things right; young enough to shatter the old molds but experienced enough to change the entire industry for the better. " Scott Hofheins, Project Mgr in Dealer Support
Corona, CA (PRWEB) August 13, 2012
Vantage LED has launched a new dealer support program called "Powered by Vantage". This year marks Vantage LED's re-dedication and a commitment to their dealers; not only with new corporate and product branding, but focusing efforts on being a valuable RESOURCE and not just a SOURCE for LED Signs. Vantage LED employs many professionals with years of experience in the manufacturing and retail end of the industry. This lends to a perfect collaboration of efforts to launch many various resource options for their dealer partners, such as:

Online Resource Blog answering everyday questions from Dealers
White Papers written by Industry Professionals
Comprehensive Documentation & Marketing Collateral
Co-Branded Product and Market Materials
Online Advertising Resources for Dealers
"I believe there may be a handful of manufacturers doing it right when it comes to building a great product, but what separates Vantage LED is the high level of comprehensive hands on support we offer our dealer partners as well as the simple task of 'listening' to them and responding everyday." stated Chris Ma, Founder and CEO of Vantage LED.
This is how Vantage LED started 9 years ago and continues to operate today.
"Not only did Chris (with his team) set out to develop a high caliber product with powerful software built and supported in the USA, he set out to make it his mission to invite and meet every dealer partner he worked with…and that's the spirit of Vantage LED." says Paul Martin, Director of Marketing.
To this day, along with his Sales Team, Chris personally gives the tour of the factory and shares the vision of Vantage LED.
"The factory tour is a great beginning for the dealer partner experience. Every visitor I've spoken with said they're incredibly impressed by the innovation, the people and the quality of the resources we offer to help sell and support the product; not only to help their sales, but to maximize their client's ROI, which for most, is a large investment." Says Deacon Wardlow, Dealer Support and Technology Specialist for Vantage LED.
Scott Hofheins, Project Manager in Dealer Support, who talks with dealer partners everyday says, " There is a general sense of relief from everyone I've talked to. They have finally found a manufacturer who truly cares about being a partner in their success; not just a spectator on the sidelines, too busy to be bothered by their individual needs. I'm proud to be part of a team that has the resources and foresight to do things right; young enough to shatter the old molds but experienced enough to change the entire industry for the better. "
It's clear that Vantage LED's mission is to make new molds in the LED Sign Industry. Vantage LED invites all LED sign dealers to witness the power of the "Powered by Vantage" program today. Visit them online at their website or at their facility in Corona, CA.
Vantage LED is the fastest growing U.S. based manufacturer of superior LED signage. Supporting a competitive and successful dealer network in both the United States and internationally, Vantage LED has risen to be a formidable contender and loyal partner. The success and solid growth of Vantage LED is due to its unique ability to produce a highly reliable, technologically advanced product at a competitive price from its state-of-the-art Southern California manufacturing facility. For more information on Vantage LED or its superior product line please visit their website at http://www.VantageLED.com.
Vantage LED is a subsidiary of Tradenet Enterprises, LLC; a California based company with headquarters in Corona. For new Dealer information, please contact Josie Salitrero, National Sales Manager at (888) 595.3956 or Dealers(at)VantageLED.com.
Never An Ordinary Experience.