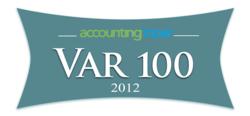 Altico Advisors is committed to providing cutting edge ERP, CRM and mobile solutions to our clients
Marlborough, MA (PRWEB) August 08, 2012
Altico Advisors (http://www.AlticoAdvisors.com) - a Microsoft Gold Partner specializing in Microsoft Dynamics GP, Microsoft Dynamics CRM, Business Intelligence, and Integration Services – is pleased to announce that they were once again ranked in the Accounting Today VAR 100, the only Microsoft Dynamics partner in New England to make the list this year.
In a July 2012 Special Report Supplement to Accounting Today Magazine, Altico Advisors was ranked in the 2012 VAR 100. In the notification letter, Technology Editor Seth Fineberg notes that Accounting Today has been awarding top performing accounting and ERP resellers for more than a decade." The article authored by Fineberg was entitled "VAR 100: Reaching for more; Top resellers expand their options." Fineberg points out several significant industry trends, including the fact that this year, 35 out of the top 100 VARs now carry cloud accounting/ERP products, versus fewer than 20 last year and only 5 in 2010.
Diversification, i.e. taking on new products and new product lines, is another strategy cited by some resellers as another element of planned growth. Many firms are restructuring and investing more in their businesses by adding personnel, providing advanced training, focusing on their marketing and sales processes, and opening new offices to expand their geographic reach. Still others discuss expansion into specific verticals.
"Accounting Today has once again accurately captured the mood and the essence of the market," according to Altico Advisors CEO Richard Maloney. "The key in the fast-paced world of technology is agility and that means a willingness to evaluate and embrace new trends, new ways of doing business, new ideas. I've witnessed more change in the software industry in the last two years than I have seen over the course of two decades! That's exciting. We're excited. Altico Advisors is committed to providing cutting edge ERP, CRM and mobile solutions to our clients. Their success will be our success."
About Altico Advisors
Headquartered in Massachusetts, Altico Advisors implements and supports business, financial, and customer management software solutions for mid-market enterprises, primarily throughout New England. Altico is a Microsoft Gold Partner specializing in Microsoft Dynamics GP (Great Plains)for accounting and ERP, Microsoft Dynamics CRM for sales, marketing and service automation, and Business Intelligence (BI) systems for manufacturing, distribution, software development and service companies. In addition, Altico provides a wide variety of integration, consulting and advisory services, such as outsourced financial services, business and IT strategy alignment, software selection, and business analytics. http://www.AlticoAdvisors.com