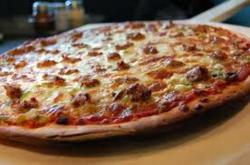 Valentina's is all about family
Milwaukee, WI (PRWEB) August 02, 2012
Valentina's Pizzeria is offering a buy-one-get-one takeout special to say thank you to customers for 13 years of delicious business in the month of August.
Buy a 20" thin crust, 2 topping pizza and get a 12" thin crust cheese pizza free! This buy one get, one special is just $20, and available for carryout only.
Valentina's Pizzeria in Cudahy puts a fresh spin on Italian cuisine. Valentina's uses only the freshest ingredients and serves up homemade lasagna, pasta and one of the best pizzas in the Milwaukee area.
"Valentina's is all about family," says Ed K., a chef at Valentina's. "We make all of our dishes from scratch and use only the freshest ingredients. It's food from the heart, from our kitchen, to your table for you to enjoy with your loved ones."
Valentina's is known for delicious thin crust pizza, broasted chicken, calzones and sandwiches including cheeseburgers, grilled chicken sandwiches and New York style cheese steaks.
Valentina's Pizza provides takeout, pizza delivery and catering of delicious Italian, home-style meals throughout the greater Milwaukee area.
To take advantage of the August customer appreciation two-for-one thin crust special, call (414) 501-4071 or visit http://www.valentinaspizzeria.com.
About Valentina's Pizzeria
Valentina's Pizzeria is located in Cudahy and delivers to South Milwaukee, Cudahy, Bay View, Oak Creek, St. Francis, and Milwaukee. Vibrant Sicilian flavors make up the deliciously authentic dishes at Valentina's Pizzeria. Valentina's is proud to be a family owned business and uses family owned recipes to create meals from the heart.