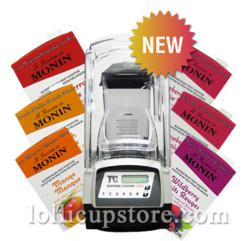 From August 1-14, LollicupStore.com will give away Monin Smoothie Mixes for FREE with the purchase of any Vitamix blenders.
City of Industry, CA (PRWEB) August 01, 2012
If you're looking for a refreshing yet healthy way to wet your whistle during the hot summer months, look no further. This August, LollicupStore.com has the best summertime offerings for smart shoppers.
Soft, sweet, and satisfying – Tea Zone® Mini Flavored Mochi is a pounded glutinous rice cake that commonly can be eaten by itself, or as a topping for ice cream, yogurt, and desserts. Starting August 1-14, Tea Zone® Mochi treats, available in five different flavors – Original, Mango, Strawberry, Green Tea, and Coconut, have been marked down to $46/case; a total of 25 bags are included in one case. Also be sure to savor the exceptional flavors of Tea Zone® Popping Pearls– translucent balls filled with fruit juice in the center. Available in six different flavors – Lychee, Mango, Strawberry, Orange, Passion Fruit, and Yogurt, Tea Zone® Popping Pearls will give your drinks or dessert a unique presentation. Pricing starts at only $16.95/jar. Best of all, Tea Zone® Mochi and Popping Pearls are ready to serve immediately.
Blend into summer with Vitamix blender kits. From August 1-14, LollicupStore.com will give away Monin Smoothie Mixes for FREE with the purchase of any Vitamix blenders. Starting at $350/kit, and available in limited quantities, Vitamix® Drink Machine kit includes one Vitamix® Drink Machine and three bottles of FREE Monin Smoothie Mixes (a $22.50 value) in Peach, Mango, and Wildberry. The Vitamix® Blending Station kit includes one Vitamix® Blending Station and one case (6 bottles) of FREE Monin Smoothie Mixes (a $45 value) including Peach, Mango, Wildberry, Strawberry, and 2 bottles of Strawberry Banana. Lastly, the Vitamix® Blender "The Quiet One" comes with one case (6 bottles) of FREE Monin Smoothie Mixes as well.
Also highlighted from August 1-14 are Caffe D'Amore Freeze Powders starting at $10.50/bag. Formulated with high-mountain grown Arabica coffee, Caffe D'Amore powder mixes present an incredible selection of specialty beverages with Italian inspiration, ranging from a superb European style chocolate mix (Bellagio Sipping Chocolate), to a zero trans-fat frappe mix (Skinny Mocha Frap). Simply add ice, juice, fruit, or coffee – anything you desire to create your own signature frappes and smoothies. Additionally, LollicupStore.com is introducing Da Vinci Sweeteners priced at $4.50/bottle this summer. Available in four flavors including Cane Sugar, Agave, Honey, and Maple, Da Vinci Sweeteners are easy to measure and pour, and dissolve well into liquids – even cold beverages. They are perfect for virtually any application: espresso-based drinks, brewed coffee and tea, Italian sodas, desserts, and more.
Starting August 15-31, LollicupStore.com offers Monin Organic Syrups for health-conscious coffee drinkers. Presently, as the only syrup company in the U.S. carrying an organic line, Monin offers its organic syrups available in six delectable flavors: Hazelnut, Caramel, Chocolate, Raspberry, Vanilla, and Agave Nectar. These organic syrups are USDA certified organic, gluten free, and GMO free. Made from the finest organic sugar cane and flavors, Monin Organic Syrups are also pasteurized with no additives or preservatives, making them the perfect addition to your beverages. Pricing starts at $6.50/bottle.
This August, add flavor without the additives. For as low as $2.65/carton, Pacific Natural Foods' Nut and Grain Beverages and Organic Soft-Serve Bases contain natural and organic ingredients. Starting at $10.25/bottle, Dr. Smoothie's 100% Crushed Whole Fruit Purees and Classic Blends are both lactose and fat-free, loaded with antioxidants that strengthen your ability to fight off diseases. Available in 14 different flavors, Da Vinci Gourmet All Natural Syrups priced at $5.35/bottle feature no artificial flavors, colors, or preservatives, making them a healthy addition to espresso drinks, cocktails, smoothies, and slushes. Torani Puree Blend is a highly concentrated fruit blend that creates extra thick, creamy drinks with a real fruit taste, and a nutrient dense beverage since it packs more nutritional value per calorie than other beverage choices. Starting as low as $19.70/bottle, these premium whole fruit purees are available in 10 flavors ranging from Strawberry to Mixed Berry.
This summer, meet the growing consumer demands for fresh and healthy options at your café and restaurant with satisfying summertime offerings on LollicupStore.com. Smart business is indeed just a click away!
##
About Lollicup® USA, Inc.
Lollicup® USA Inc. is headquartered in City of Industry, California and is widely known for retailing bubble tea drink products under the Lollicup® Coffee and Tea and Lollicup TeaZone® brands. For more information, please visit LollicupStore.com.