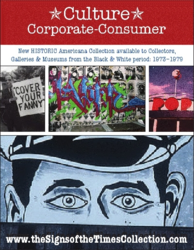 the fact that all these images are gone forever from culture make this collection a rarity that will surely increase dramatically in value!
Naples fl (PRWEB) August 01, 2012
The fine art photography folios are unprecedented photo realism. The documentary of people, places and historic events is unprecedented in modern expressionism. The documentary collection preserves lost American consumer and corporate culture, folk art, still life, neon, street art, graffiti and urban landscapes beginning in 1973.
All of the images are gone forever from American life and culture.This one of a kind, fine art, photo documentary collection photographed over 28 years, 43 states.
"The genius of this contemporary art collection is the artists transformation of universal symbolism to create extraordinary vintage art from life" --art collector, Toronto, Canada.
Tucker is recognized as a new modern fine art photography master. His signed very limited edition prints sell for thousands of dollars in worldwide art galleries. The black and white period (1973-19779) are the especially sought-after. Visit: http://www.ModernMastersPhotography.com to see the collection.
Based upon worldwide sales, the collection is now listed in the leading resource for art collectors, ArtPrice.com. Tucker's historic American signs and advertising images are a top art collectible in today's fine art market. His coffee table book can be seen at: https://www.Blurb.com/bookstore/detail/723323
"When word fails us, signs symbolize a universal language to express the human condition and give meaning to life," noted Billy Tucker, Photo Realist, 1974.
Highlights of the collection include, Americana, expressionism, consumer and corporate culture, still life, abstracts, documentary folk art, neon, graffiti, urban landscapes, street and modern art.
"The fact that all these images are gone forever from culture make this collection a rarity that will surely increase dramatically in value!" -- Gallery Owner, New York, New York, 2010
The historic photo realism folios prints are a very limited, signed and numbered editions of only ten to twenty five. The originals are then destroyed. The rare black and white period folio covers the1973-79 period are especially rare and collectible as archival albumen prints.
Billy Tucker, photo realist, observed, "I am pleased to have preserved cultural imagery now long gone from the American landscape and culture."
Tucker's work preserved Americana and may be more expansive than Walker Evans, Diane Arbus, WeeGee, Bourke-White, Dorothea Lange, Bill Owens, Man Ray, Cartier-Bresson, Bernice-Abbott and other historic, fine art photographers.
Tucker is a graduate of Tulane University in New Orleans and studied under Clarence John Laughlin in the 1970's. In 1998,Tucker recreated WPA photographer, Walker Evans1936 Pulizer Prize winning book, Let Us Now Praise Famous Men, and documented sign related imagery throughout Alabama.
He plans to travel across the USA in the Summer of 2012 and is accepting photo assignments and seeking art exhibitions.
For more Information about the collection,please:contact Billy Tucker or Will Tucker, curator at: email: modernmastersphotography(at)gmail(dot)com * Tel: 239.250.4920 Naples, Florida, USA