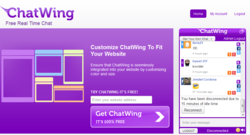 Los Angeles, CA (PRWEB) August 01, 2012
Lifestyle blogging is now considered as one of the hottest niches that can be discussed in Livejournal. This is according to the amount of blogs and websites created for the purpose of lifestyle discussion. The Chatwing development company has seen the importance of lifestyle blogging for many people. With this fact, Chatwing has launched a global chat box that can provide real-time interaction between bloggers, visitors, and web surfers.
The versatility of the Chatwing chatbox can help many lifestyle bloggers explore different areas of their niche. Now, these bloggers can post questions related to lifestyle in different countries, choices of people, the importance of comfortable living, and why people aim for the cosmopolitan lifestyle. In a simpler scale, lifestyle bloggers can just use the Chatwing chat tool to explore the opinions of their blog visitors. Chatwing's free chat box also utilizes the power of the social media—guests and visitors can now log in with their Facebook accounts. This is useful for people who want to expand their social networks.
During its early months in the industry, the Chatwing free chat widget has almost struggled when it comes to visibility. To deal with this, the developers created a plan that will consolidate Chatwing's position over different blogging communities, forums, message boards, and website creators. The Chatwing team has understood that these online sectors have thousands of varying niches, and they can be reached step by step. After rigorous marketing campaigns, the Chatwing chat tool has managed to gather a steady rate of visibility.
The Chatwing team has also understood that if their visibility falters, thousands of bloggers will lose an opportunity for better web communication—especially in the Livejournal community. As a method of prevention, the Chatwing team is always ready to introduce platform upgrades to their free chatbox. In this way, the Chatwing tool will retain its stability, speed, and reliability. As an added bonus, the team also maintains a Chatwing blog and Facebook page.
About Chatwing.com
Chatwing.com specializes in the new field of website chat. Over years, the Chatwing team has introduced live chat widget for hundreds and thousands of blogs. The Chatwing application bridges people from many parts of the world, creating global synergy through the Internet. The shout box can be installed in just seconds, and it can be used for varying purposes such as leisure and Internet marketing. It also allows a user to customize the size, color, and name of the widget. Chatwing is 100% free for everyone.