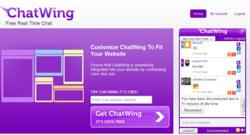 Omaha, NE (PRWEB) August 01, 2012
Blogging for games has been one of the big niches in the blogosphere today, based on the numbers of gamers looking for hints, tips, and gaming secrets. Lately, the Chatwing dev team has noticed that game blogging has grown in the Wordpress community. To utilize this timely growth, Chatwing team has launched a universal chat box that can help gamers achieve proper web communication. Through this, gamers will be able to connect with each other within a short time.
Game bloggers excel at their trade by sharing their own gameplay tips and secret areas that they have uncovered. Based on this, Chatwing's researchers have realized that many gamers are willing to share information on a regular basis. In Wordpress alone, Chatwing's free shout box has generated hundreds of signups from the game blogging niche. Commonly, these bloggers talk about Farmville, Cityville, Skyrim, Game of Thrones, iPhone games, and browser-based games or BBGs.
Aside from providing easy interaction for everyone, Chatwing's free chat box can also be used as a visibility booster to any blog or website. Some bloggers have noticed that the visibility of their blogs have grown from moderate to high in just few days and weeks. The percentage of growth varies, depending on the content of the blog or how amiable the blogger is. Chatwing's chat widget can also accommodate up to 1000 active users at a given time. In the coming months, the dev team is planning to upgrade this capacity to 1000.
Chatwing is entirely dedicated to the betterment of blogging as a whole, not only in Wordpress, but in other communities as well. To do this, Chatwing's development team is working hard in terms of research, processes, and reaching out to people. Additionally, the dev team is planning to introduce various upgrades to ensure the success of the free chat widget. Chatwing is also planning to expand to famous communities such as fashion, sports, finance, and hobby blogging.
About Chatwing.com
Chatwing.com specializes in the new field of website chat. Over years, the Chatwing team has introduced live chatbox for hundreds and thousands of blogs. The Chatwing application bridges people from many parts of the world, creating global synergy through the Internet. The shout box can be installed in just seconds, and it can be used for varying purposes such as leisure and Internet marketing. It also allows a user to customize the size, color, and name of the widget. Chatwing is 100% free for everyone.