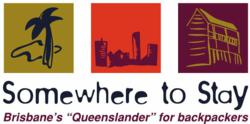 "This place is like the Hotel California, you can check out any time of year, but you can never leave this Brisbane backpackers hostel".
Brisbane, Australia (PRWEB) August 01, 2012
Stepping up to go green wasn't a easy task but owner Harry Maoudis has taken his passion of sustainability and the love of the environment into the backpacking world. He explained his "Passion for mother nature was passed down to me from my father Louis, a well known green activist who has a real passion for sustainability and green conservation." Harry explained that living and working in a Hostel showed him how exactly he could save on water, electricity and waste to make the hostel a Five-Star green business.
The Backpackers Hostel has a long and illustrious history. During the early 1900's, nurses from the local Mater Hospital were the only guests using the historic house as work accommodation. The hostel was then transformed into a family home during the 1950's to eventually take face as a boarding house in the 1970's. The expanding tourism industry in Brisbane then turned the amazing Queenslander building into a unique resort style hostels during the early 90's.
Housing over 150 guests, the hostel has reported that since the early 90's, over one hundred thousand youth travellers have explored Brisbane making Somewheretostay Backpackers their home base in Brisbane. A free shuttle bus, ferries guests to Brisbane's top attractions including South Bank, Brisbane's CBD, Mount Cootha and the State Library.
The hostel is proud to have also housed many special guests of the feline kind. Esky is longest serving cat having spent over 20 years greeting and making hostel travellers from all over the world feel welcome in Brisbane.
Budget travelling and backpacking can be a amazing once of a lifetime experience. Somewheretostay Backpackers in Brisbane takes this experience and turns it into a once in a lifetime green sustainable adventure.