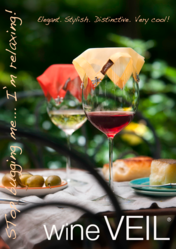 The best thing to happen to wine since clear glass.
Los Angeles, CA (PRWEB) August 26, 2012
Persistence is paying off for a small Washington company fighting for shelf space in a crowded wine accessory market. The very stylish wine VEIL celebrates its 2012 Southern California launch at the Los Angeles Gift Show to an exceptionally enthusiastic crowd.
Wine VEIL is a unique wine accessory and arguably the hippest wine product developed in recent years. It is the perfect answer to enjoying wine outdoors. The wine VEIL was designed to protect your wine in a glass, bottle or decanter from the insurgent attack of those pesky bugs and other flying objects. The form of the wineVEIL is soft and simple. It is fashioned from sheer, breathable, washable fabric... beautifully hemstitched and weighted on each corner with lovely silver charms. WineVIEL int'l currently offers 9 different color collections and is sold in sets of four. They are impeccably sewn and meticulously packaged, offering a wonderful hostess gift or any other gift giving option. The wine breathes while simultaneously 'protecting your investment' from insects. A very clever wine accessory and a brilliant campaign.
The response to wineVEIL®int'l has been enthusiastic and global. As the product developer, the sweetest words to hear from the targeted resellers are "I love this product... congratulations!"
Sales have grown over 400% since the original launch, with over 80 wineries, wine shops, grocery stores, wine glass companies and gift shops now endorsing wineVEIL intl. Buy the wine VEIL on line at wineVEILintl.com or at retail stores such as Mumm Napa, Napa Style, J. Lohr, Tobin James, Albertson's, Vendome and many others. With a strong sales force and an international interest one can expect to see this product just about everywhere!
For more information please contact:
Karen Knauer - Principal wineVEILintl
855 345-8345 toll free
karen(at)wineVEILintl(dot)com
http://www.wineVEILintl.com