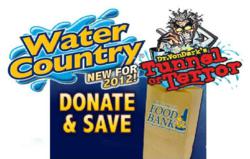 It's a win-win promotion that brings full circle our belief that having fun and giving back can go hand-in-hand!
Portsmouth, NH (PRWEB) August 15, 2012
Since its inception in 1984, Water Country has always prided itself on giving back to the community. With this year's debut of Water Country's newest attraction, DR. VON DARK'S TUNNEL OF TERROR, they want to help as many guests as possible get to the park to ride this new attraction and enjoy a day at Water Country. With that said, they're proud to announce their newest partner in giving, the New Hampshire Food Bank!
Every Monday throughout the rest of the season, Water Country invites park guests to bring non-perishable food items to the park (canned and packaged items). For each item donated, guests will receive a $1 discount off the purchase of one All Day, 48" and over, admission ticket. The more you donate the more you save, with a maximum of $5 savings per ticket purchased. The collected food items will be donated to the New Hampshire Food Bank. Every year, the Food Bank distributes over 7.8 million pounds of donated food to more than 400 food pantries, soup kitchens, shelters, day care centers and senior citizen homes. These registered agencies in turn provide the donated food to over 130,000 men, women and children throughout New Hampshire each year. "We're very excited for this new partnership. Our guests are good people who have shown that they are willing to help community friends and neighbors and we're happy to reward them with discounted admission to the park for their assistance donating non-perishable food items to the food bank. It's a win-win promotion that brings full circle our belief that having fun and giving back can go hand-in-hand!"
Water Country is located in Portsmouth, NH (just 3 miles south of the Portsmouth Traffic Circle) and is gallons of fun for the whole family. With thrilling rides that get the heart pounding, to attractions perfect for the little ones, Water Country has got fun covered! Go fast or just relax. It's up to you. With over 26 acres there's something for everyone. Water Country is open daily (weather permitting) thru Labor Day. For hours and prices, visit watercountry.com. 2012 Single day tickets and Season Passes are available online at http://www.watercountry.com or at the park during daily operating hours. Season Passes come with a number of pass holder only benefits including a Bring-A-Friend-Free ticket! At just $65.99, and plenty of summer fun left to be had, a Water Country Season Pass will pay for itself in less than two visits! Buy two or more Season Passes and pay just $49.50 each! Limited time offer.
Water Country is a Palace Entertainment owned and operated park; Palace hosts over 13 million visitors annually at 40 locations in the USA, with 8 theme parks, 11 water parks and 21 family entertainment centers, and is the largest operator of water parks and family entertainment centers in the nation. Be sure to check out our nearby parks, Story Land in Glen, NH and Lake Compounce in Bristol, CT. Admission discounts available to Water Country Season Pass holders!