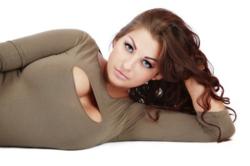 Their brand-new plus size modelling section now open for viewing online
London, UK (PRWEB UK) 14 August 2012
Confidence is key to become successful in the plus size modelling industry, say UK Model Agencies.
The team at UKMA, the UK's largest online model agency directory boast about their brand-new plus size modelling section now open for viewing online.
'Celebrate your curves ladies and do it style,' says Helen Stark, Fashion Editor for the winning website attracting over 25,000 new models to their pages. 'Big is most definitely beautiful, and bonny is back in style.'
The team at the very successful website about all things modelling say plus size models are wanted now more than ever before and they say it's all about keeping it real. It seems that the days of waiflike, stick thin models is on the wane, and larger models are wanted now more than they ever were, to promote clothing ranges for the 'real' size population of the United Kingdom.
'At UK Model Agencies we celebrate all sizes and all ages but we would love to hear from more voluptuous vixens and shapely statuesque models to let our plus size modelling department showcase your glamour to its full potential,' says Helen.' For the fashion conscious curvy female, what better way to showcase that gorgeous body, than showing it off for all to see because plus size modelling is certainly the way to go.'
The team at UKMA would recommend anyone who feels they would fall into the category of the plus size model to maybe think seriously about taking up modelling as possibly a part time career or even a full-time one.
'Size most definitely does not mean shame, not in this day and age,' says Jim Dawson, Chief Press Officer for UK Model Agencies. 'As long as you have got the look a modelling agency or accompanied requiring plus size models needs, then there is plenty of work for larger models.' He goes on to say,' modelling isn't easy and it's certainly not for the shy. A model must be proud of their body and not be afraid to show it off when asked.' He explains that a lot of plus size models are very shy at first, not realising they have got exactly what is needed for the plus size modelling fashion industry. There are so many ranges of clothing to suit different body shapes and sizes and UKMA know with first-hand experience that there is a real new trend in the casting jobs coming up for plus size models. They make it their business to inform all models on their books of impending modelling jobs, just another service that the model agency directory provides on their website http://www.ukmodelagencies.co.uk.
'Our new section all about plus size modelling has pages dedicated in how to become a plus size model, as well as offering aspiring models a huge list of different types of plus size modelling available to them,' says Helen.' If a person has got the confidence to be proud of whom they are, a want to show the world their assets, then they have got the beginnings of a future in the modelling industry.' She goes on to explain that there is no right and wrong way for a model to breakthrough into the industry, but how to become a plus size model is entirely up to the model in question.
'If you've got the looks and you got the swagger then there is sure to be a niche within the modelling industry for you if you have the determination to find it, and we can show you how.'
The new pages dedicated entirely to larger than life modelling can be found at http://www.ukmodelagencies.co.uk. And with more and more pages added on a daily basis, UKMA strive to only in form and advise with more articles and features in this genre for those who need it.