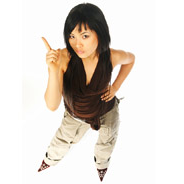 Provide honest and forthright advice on how to become a model
London, UK (PRWEB UK) 24 August 2012
Launching a model's portfolio is just one aspect of the UK's largest online model agency directory's service, but more teen models who can act are needed they say. 'There's a real shortage for models who can also act,' explains Helen.' To be able to pull off a certain look and be convincing takes acting skills and there is a real shortage of female teen models that can combine the two professions.'
http://www.ukmodelagencies.co.uk provide honest and forthright advice on how to become a model and they believe the most effective way to achieve success in this current economic climate, is for a model to promote themselves to other freelance photographers. Along with their partners, La Mode London, the commercial photography company, the two companies launch portfolio websites to help models.
'We also list the latest casting calls and modelling jobs and recently our customers want models for TV work or models as extras in theatre productions and live stage shows.' She goes on to explain how important it is for a model to have other assets, to perhaps be musical or even to be able to sing and dance to gain more work.
'This is an added bonus of course, but don't worry if you can't sing or dance, but you do need to be able to act. Strutting down the catwalk means a model needs to become somebody else to promote a certain look and style. You need to look comfortable and confident and this has to come across in your performance otherwise nobody is going to want to look at the clothes, if they feel uncomfortable watching you.'
Helen explains that many teen models start modelling when they are very young, and it can be quite rare to get a model at this age to be good at acting as well.
'Confidence comes with age and experience, and it's the newbie who needs the most training and work. We have new pages especially to help models with their acting abilities which we have launched today, Our TV work for models page explains other parts of the industry for models to get into if they can.'
She goes on to say,' to make a model stand out from the crowd means they need to go one better than the rest, to actually become someone else when they are sashaying down the runway. Especially with commercial modelling, a model needs to act the part of another person and do it naturally.'
The team at UKMA say that facial expressions and all the right poses are just as important but if a model can go that extra mile and perform, they will definitely get noticed.
With the winning website which attracts nearly 25,000 aspiring new models every month, the team at UK Model Agencies have a form to fill in to simply provide their details. The team also invites any model to ask any questions they may have thought of. With the launch of the latest pages dealing with acting on stage, and on the TV, they hope they have provided answers to any questions a model may have, but if not, they are simply at the other end of the phone or available via email.
Check out the new pages at http://www.ukmodelagencies.co.uk and keep up-to-date with the latest additions for any aspiring model who needs help and guidance.