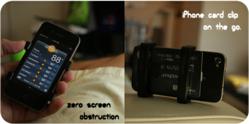 The franc is designed to be intuitive and simple, letting the iPhone still look and feel like the iPhone.
Austin, TX (PRWEB) August 01, 2012
Entrepreneur, Chris Anderson, is launching an innovative card clip for the iPhone 4/4S and soon to be released iPhone 5. The card clip, named The franc is a set of two small attachments that easily snap on the iPhone to securely hold your vital items such as credit cards, photo ID, and cash.
The intuitive snap fit design gives users quick access in a small package. Flexible padding acts like a spring securely fastening up to four cards. The franc also prevents touch screen wear, by slightly lifting the screen from the resting surface. It can even be used as an iPhone stand to watch videos or chat with friends on facetime.
The franc is perfect for going out at night, working out at the gym, going on a run, hanging out at the beach, attending class, or holding RFID cards for easy access to secure locations.
Chris Anderson began designing the franc a few months ago while trying to reduce the total amount of items he carried with him each day.
"Since I'm never without my iPhone and I hate my bulky wallet, I wanted a way to add the functionality of my wallet to the iPhone." says Anderson. "Minimal design is very important to me. Unlike many iPhone cases, the franc is designed to be intuitive and simple letting the iPhone still look and feel like the iPhone. "
Key features of the franc include:
> Acts as an iPhone Stand
> Intuitive Snap Fit Design
> Less Purse Space
> Quick Access
> Protects Touch Screen
The franc is available through kickstarter.com until September 2012. The franc kickstarter project has a goal of raising $10,000 to pay for start up costs such as injection molded parts, patent application, prototyping costs, etc.
The franc for iPhone 5 will be shipped out to kickstarter backers soon after the Apple iPhone 5 release. For more information visit thefranc.com