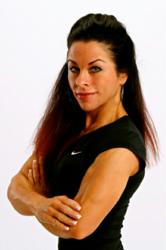 Tammy strongly feels that every woman deserves to look and feel their best
Bedford, New Hampshire (PRWEB) August 01, 2012
Integrity Health Coaching for Women franchises is proud to announce the newest addition to their team of expert fitness coaches. Tammy Poirier, mom, professional bodybuilder and certified trainer has joined the ranks of Integrity's elite.
With a focus on education and understanding, Tammy enlightens her clients of the importance of proper nutrition and regular exercise and provides them with the tools and support required to find balance in making a lasting lifestyle shift. She believes support is key to making any kind of lifestyle change, which is why she is thrilled to be a part of the Integrity team.
A Bedford, NH resident and mother of 3, Tammy enjoys an active lifestyle along with spending time with her kids. Her passion for health and wellness has lead this former stay-at-home mom to pursue a career in assisting other women find balance in their lives and achieve their personal health and wellness goals.
Through personal experience, Tammy understands that balancing a busy lifestyle with a healthy one presents a challenge to many women, yet it is attainable. Tammy strongly feels that every woman deserves to look and feel their best. She is a NASM Certified Personal Trainer, Nutrition Specialist and active Professional All Natural Bodybuilder.
Since deciding to compete as an All Natural Bodybuilder in the summer of 2010, Tammy has earned three amateur titles, two Professional Natural Bodybuilding statuses and a Pro Title in June of 2012. Tammy is currently training to compete for a Pro Bodybuilding World Championship in Atlantic City, NJ in November of 2012. However, she admits to enjoying a nice glass of wine and homemade chocolate chip cookie in the off season!
Tammy is looking forward to sharing her knowledge and experiences with the Integrity members and staff. She has recently attained her EZ Coach training and certification, the training system utilized by Integrity Health franchises. Tammy will be based out of the Bedford, NH location but will occasionally be seen in our other locations. We welcome her with open arms and feel she will make a great addition to the Integrity team.