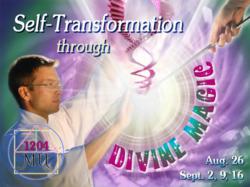 This webinar course is a practical and entertaining exploration of divine magic or white magic and how we can consciously use it in our daily lives with our thoughts, feelings, words, gestures, and facial expressions to transform ourselves and the world.
Livingston, MT (PRWEB) August 08, 2012
Magic is real; it's not the fantasy of a Harry Potter story. It's something that is done unconsciously every day by everyone, even the biggest skeptics of magic. This is one of the themes of Self-Transformation through Divine Magic, a fascinating course on a subject that is rarely taught outside of secret societies and esoteric schools.
This online webinar course is a practical and entertaining exploration of divine magic or white magic and how people can consciously use it in their daily lives with their thoughts, feelings, words, gestures, and facial expressions to transform themselves and the world around them. Something as simple as giving a sunny smile or warm touch to a friend who is depressed is an example of Divine Magic.
The topics covered in this course include:
1. The three metaphysical laws of magic.
2. The differences between white magic and black magic, and why the latter should be avoided at all costs when faced with the Initiation of the Y.
3. How to work with elementals and attract beings of light to create positive change.
4. How to use the tools and techniques of magic, such as the magic circle, wand, sword, chalice, candle, and magic words.
5. How to use talismans for protection and healing, and exorcise negative talismans.
6. Techniques of lunar and solar magic.
7. The magic power of gratitude.
8. Who the real Jedi knights were and where the source of "the force" lies.
9. The magic of trust and love.
10. How to gain protect against black magic and the poison of imperil.
11. How to strengthen the magic circle of the aura and use it to cocreate reality.
12. How to use a magic wand to heal someone remotely.
13. The power of sacred symbols and the angelic language of symbols.
14. Peter Deunov's pentagram of spiritual transformation.
15. The symbolism of Sol-O-Mon's Seal.
16. The importance of prayers at sacred sites to strengthen and balance the Earth grid.
17. Why the number 13 is unlucky and how to overcome bad luck and negative astrology.
The instructors of this course are David Christopher Lewis and Wayne Herbert Purdin.
David Christopher Lewis is a mystic, spiritual teacher, composer and author for the Aquarian Age. For three decades, David has been a student of the ascended masters and has studied the world's major religions. In the spring of 2004 he began receiving regular telepathic communications from the masters in heaven. He maintains that he is not the messenger for the ascended masters, only one of them. He reminds us that we each sit under our own "vine and fig tree", and are each messengers in our own right, offering of our particular expression of the Godhead.
Early in 2005, David co-founded a spiritual movement in obedience to the masters' request. The Hearts Center is a nonprofit organization, dedicated to helping people everywhere nurture their own divine potential. It is a world-wide activity with centers in the United States, Canada, South America, Europe, and Africa.
David conducts prayer services during free Internet broadcasts on The Hearts Center's website. He speaks at Hearts Center conferences and workshops held around the world. In addition to leading international pilgrimages, David teaches online Meru University webinar courses along with other instructors.
Wayne Herbert Purdin is an author and spiritual teacher. His works include children's stories, thought-provoking essays, and news articles with a spiritual slant distilled from 42 years of experience on the spiritual path.
Wayne spent 29 years studying and applying Divine Magic principles and techniques contained in ascended-master teachings. Through the techniques of sun yoga (solar magic), Wayne healed himself of leukemia. As director of the Sun Center of Phoenix, he promotes the solar teachings of Hira Ratan Manek and Omraam Mikhael Aivanhov. Wayne shared their teachings in free teleconference classes called The Circle of Love and Light for almost 2 years.
He has taught three online courses on sun yoga, most recently Solar Health/Solar Wealth for the Hearts Center's Meru University in 2010. He also taught the Initiatic School of the Great White Brotherhood in 2011. Wayne produced the popular video Beyond 2012: A Vision of the Golden Crystal Age of Aquarius, of which he says, "I combined the breathtaking imagery of Mario Duguay, the inspiring words of Manjushri through David, and the celestial music of Harold Moses into this video as a powerful alchemical experiment in Divine Magic. If enough people watch this video and desire the golden crystal age, it will manifest."
To register and learn about more about this amazing course, visit the website at http://www.heartscenter.org or call 312-253-7600 or email friends(at)heartscenter(dot)org.