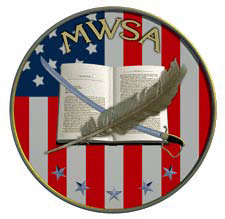 Pittsburgh, PA (PRWEB) August 01, 2012
The Military Writers Society of America (MWSA) announced today the nominees for its prestigious Gold, Silver and Bronze Awards, President's Award, Founder's Award and 2012 Author of the Year. MWSA Vice President Mike Mullins announced the nominees at 9:00 am (EST), Saturday, July 28, on Veterans Radio Network show," At Ease" hosted by Dwight Zimmerman. Veterans Radio (http://www.veteransradio.net) is dedicated to the men and women who served, or who are now serving, in the USA armed forces.
MWSA President, Joyce Faulkner, and the 2011 award recipients will present the awards at the annual MWSA conference banquet and awards ceremony, September 27 – 30 in Dayton, Ohio at the Holiday Inn Dayton/Fairborn. Award-winning author Del Staecker will emcee the award ceremony and present the awards. The 70 award nominees are candidates for Gold, Silver or Bronze Awards with first and second honorable mentions in 25 different categories. Jack Woodville London, 2011 Author of the Year will present the prestigious 2012 award to one of three nominated authors: William C. Hammond, Mike Angley, or Carolyn Schriber.
Nominees represent the highest scoring reviews from the hundreds of books submitted to MWSA this year. Mrs. Faulkner states, "These award nominees are already winners. Some of the benefits of being nominated include appearances on various blogs and radio talk shows, features on MWSA's website and monthly Dispatches magazine, and interviews on radio and public-access television during the annual conference in Dayton."
All 2012 award winners and nominees participate in MWSA's fall conference, which will feature in a pre-conference event, Writing Workshops for Veterans, Emergency Care Providers and their family members, presented by Leila Levinson, September 27, 2012 at the Holiday Inn Dayton/Fairborn, Fairborn, Ohio. Instructors for the workshops are veterans and children of veterans who have used writing to come to terms with their own trauma or the legacy of trauma within their families.
About Military Writers Society of America
The Military Writers Society of America was the brainchild of Founder, W. H. (Bill) McDonald Jr. A crew chief/door-gunner on UH-1D Huey helicopters in 1966 and 1967, Bill flew with the 128th Helicopter Assault Company out of Phu Loi, South Vietnam. He was awarded numerous medals, including: the Distinguished Flying Cross, the Bronze Star, fourteen Air Medals and the Purple Heart.
To better understand his own experiences, Bill began to write about them. In the years since, he has discovered literally hundreds of other warriors who are driven to explore and reveal their experiences through fiction, non-fiction, poetry and art. It was Bill's vision to bring them together to share and promote their respective arts.
Joyce Faulkner is the current president of the organization. She states, "Military Writers Society of America helps veterans, their families, and historians record history and the complexities of military life―and encourages writing and other creative endeavors as therapy for the stresses of our special circumstances. We focus on using these works to educate the general public, students, and the military community."
For additional information or to schedule an interview with one of the nominees contact:
Joyce Faulkner, MWSA president, (412) 496-5034.or
Sandy Lawrence, Publicist, (281 989-8892
For additional information on the Military Writers Society of America: http://www.militarywriters.com
*See attachment for MWSA award nominees