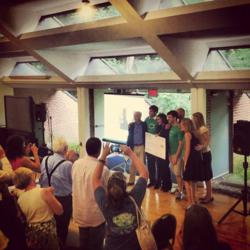 FRN has a really clear goal right now: expand, expand, expand.
Washington, D.C. (PRWEB) August 02, 2012
19-year-old Lauren Behgam takes hunger personally. A rising sophomore at Brown University, she helped to start the Food Recovery Network (FRN), a national student-led nonprofit that donates the surplus unsellable food from campus dining halls to people in need.
On Saturday, she presented her work to a panel of judges and a live audience and was awarded the $15,000 grand prize in the Banking on Youth Competition in Washington, DC.
Behgam and the Food Recovery Network competed alongside five other young finalists from across America, who were all flown to the nation's capital to present. A total of 180 young changemakers entered the competition, which was put on by Ashoka and the Consumer Bankers Association to recognize and inspire youth-led social entrepreneurship.
Behgam elatedly said of the win, "FRN has a really clear goal right now: expand, expand, expand. The larger the network, the more people we can feed. The money and national recognition is going to go a long way."
The Food Recovery Network was founded in September 2011 at the University of Maryland, College Park, and has already donated over 50,000 meals which would otherwise have gone to waste. In its first year, it also started chapters at Brown University, University of California, Berkeley, and Pomona College.
FRN is operated by student volunteers who regularly pick up food that was prepared but not sold by their campus dining halls and local restaurants. The students package the food into trays and drive it to local organizations that serve the hungry.
FRN is now becoming a 501(c)(3) nonprofit and is helping students start new chapters at over a dozen other universities, including the George Washington University, where the contest was held. This April, FRN also took the grand prize in the Kevin Bacon Do Good Challenge, at UMD.
# # #
The Food Recovery Network unites students at colleges and universities across America to fight food waste and hunger by recovering surplus perishable food from their college campuses and surrounding communities that would otherwise go to waste and donating it to people in need. http://www.foodrecoverynetwork.org