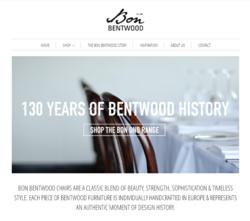 We know that ultimately, people will always value something that is beautifully made. Quality will always triumph over price.
(PRWEB) August 16, 2012
Classic bentwood chairs have been around for well over a century. While the world has changed in countless ways over that time and the way that we live our lives today is so vastly different from a century ago, one thing has remained constant - the classic bentwood chair. Fundamentally manufactured the same way today as it has been since 1870, the classic bentwood chair has endured a thousand design trends and will endure a thousand more. It is widely praised as the most successful chair design of all time.
Nufurn, an established Australian manufacturer and distributor of hospitality furniture to hotels, restaurants and cafe's, distributes a range of European bentwood furniture under the Bon brand. While Nufurn only supply trade customers, they have just a launched the boutique B2C online site, bonbentwood.com.au to enable private customers to now purchase beautifully handmade European bentwood chairs online. This is the first time that Australian customers will have such a large range of bentwood chairs, to choose from online with next business day shipping. Nufurn Managing Director, Gavin Krawchuk said, ' In a world that seems to be obsessed with things that are quick, cheap and disposable, it's nice to supply a product that is handmade with real care and attention to detail and built to last for generations.' All Bon bentwood chairs are handmade in Europe from FSC certified European beech timber, using EU certified water based stains and lacquers. This ensures not only that Bon bentwood furniture has a 'green', environmentally friendly footprint, but is also safe to use in your home.
Nufurn spent 6 months designing and building the e-commerce site and paid close attention to every detail in particular the product imagery. Gavin Krawchuk commented, 'It was imperative from the outset that we needed to easily convey the rich beauty and detail of Bon bentwood chairs to our customers over the web. Good product photography was the key and the feedback from all of our customers has been nothing short of glowing. I'm really pleased that we've captured the true essence of the iconic bentwood chair and enabled people all over Australia to purchase these authentic pieces of design history with confidence, from the comfort of their home.' Bon Bentwood offer free shipping Australia wide.