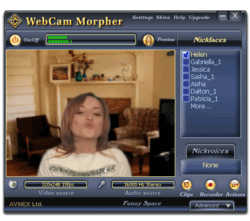 Indulge yourself with Webcam Morpher - Pro version
Ho Chi Minh, VietNam (PRWEB) August 01, 2012
This summer, Audio4fun has tried its best to introduce the latest edition of its chat supporting software program, AV Webcam Morpher 2.0.51. AV Webcam Morpher has long been known as one of Audio4fun's top-sellers. This simulated webcam can provide users with different output in all messenger applications (such as Yahoo, Skype, Pal talk, etc.) With it, they can chat with others while appearing as a virtual, controllable alternate image; users can totally control their image and background, creating an endless combination of possibilities; all they have to do is just give commands and the virtual chatter will correctly follow with its own gestures. Each set of images is called a "nickface." Users can either download the nickfaces and backgrounds from Audio4fun's online store or they can create their own with the enclosed nickface tool.
The new edition, AV Webcam Morpher 2.0.51, has been developed with new enhancements. More features have been added and some bugs fixed. The huge online add-on store includes over 50 nickfaces and 148 background images and is growing day by day and always ready to satisfy customer needs and offer them more choices.
For this special event, some gifts are offered to visiting customers. All Audio4fun's visitors are encouraged to try the FREE version of this program with 5 top premium download nickfaces included in addition to the 5 other free nickfaces. They can also buy a key for the PRO version and the right to access Audio4fun's huge online add-on store with a 40% discount. All these giveaways will be valid for only 7 days from the 30th July to the 5th August.
The AV Webcam Morpher has always been known for its unique benefits and easy-to-use features, and has always received great comments and feedback from clients and users. This new edition is the latest effort from Audio4fun to provide its customers with unique, fun and creative software to increase their chatroom pleasure. Please visit Webcam Morpher for more information and make your choice.