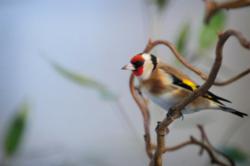 The Peak District wildlife section is just one of the many pages which make up this very successful website
Peak District, UK (PRWEB UK) 17 August 2012
Another Peak District bird is added to the gloriously bountiful Pea k District wildlife section at http://www.peakdistrictonline.co.uk.
James Dobson, the wildlife photographer responsible for bringing the wonderful writing to life with his glorious photographs, can't wait to boast about the latest edition. 'There's nothing nicer to look at, especially in all this wet weather we have been having, than the cheerful little goldfinch,' he says. 'They used to be in decline, but are now fighting back and we can help them.'
A very keen birdwatcher, James is also a little bit clever with a camera; although very shy about his skill. 'He has recently had a stunning photograph of a bee drinking nectar against stunning yellow background, chosen as the cover photo for the BBC Nature Facebook page. 'I still can't believe that I was even being considered,' explains James. 'It was such an honour and a privilege to be able to see my work on the BBC website.'
Along with his business partner Steve Wake, who is a very accomplished landscape photographer, the pair prides themselves in adding imagery to their writer's research. The new pages in the wildlife section are particularly close to James's heart. 'I absolutely adore animals, particularly birds and it's so wonderful to be able to use my hobby to bring to life the writing, which is an art in itself. Our team is amazing and we are both very proud of them.'
He explains that along with the photographs, comes a written explanation and also a bit of humour, facts and figures about each animal or bird that he has taken photographs of. The aim of the new section is to provide as much interesting and informative text to help visitors who arrive at the Peak District learn a little more about their temporary home.' A lot of people may not realise who they are actually sharing their holiday accommodation with,' he laughs.' A lot of our holiday home owners have had their properties a very long time and are home to badger sets, fox dens, but also to the myriad of birds of all shapes and sizes. We thought it would be nice if we could just add a little bit of information about each animal, particularly if somebody is interested in wildlife, but also as a great aid for families to keep the children entertained.'
The Peak District wildlife section is just one of the many pages which make up this very successful website. The team pride themselves of presenting all parts of the Peak District in various formats, in the form of written articles but also accompanied by the stunning photographs. The directors have taken themselves. The website is the UK's largest holiday accommodation directory of its kind, and what started off as a small family run business, has been a runaway success with hundreds of pages added each month.
'We get over 200,000 unique visitors each month,' explains Steve.' We want to be the first to offer all the last-minute holiday deals, but also listing the latest Peak District news and information on behalf of holiday accommodation owners, providing relevant facts and figures to the visitors who arrive at the Peak District for their holidays off day trips.' He goes on to say,' those who need to know where to go and what to see are all catered for and we also have some stunning Peak District videos which have been a popular part of our websites winning formula.'
See the Goldfinch in all its glory at http://www.peakdistrictonline.co.uk, including James's wonderful photographs and visit the new pages as they are added on a daily basis, showcasing the wonderful wildlife of the area.