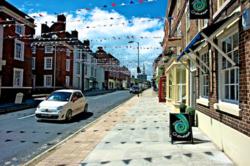 Delightful Dovedale just on the doorstep
Peak District, UK (PRWEB UK) 16 August 2012
'Dating back to the 1200s, the marketplace still stands proudly on curiously cobbled streets, 'says James Dobson, director for the winning website.
http://www.peakdistrictonline.co.uk, the UK's largest Peak District guide for accommodation. 'It's easy to imagine the fairs of long ago, selling their sheep and cattle. The town has the most wonderful atmosphere of Olde world England, but with a contemporary flavour to welcome any modern visitor.'
Passionate about any parts of the Peak District, Steve Wake, the photographer in charge of the Peak District village a section of the website, has lived and worked in this area for most of his life .the family run business of Peak District Online just announced their latest village complete and up-to-date .
'It's been wonderful wandering around Ashbourne, particularly at this time of year,' he explains.' The annual well dressings have just finished, and the bunting was still all around flapping in the breeze as I wanted with my camera, seeking out inspiration to bring the writing of the Ashbourne section of our website to life with pictures.'
The team at Peak District Online have made it their mission over the years to be the best in the business in bringing up-to-date relevant news, articles and relevant information about each area of Derbyshire. With the summer holidays now halfway through, it's still not too late to grab a last-minute break.
'Not only do we delve into the secrets and grab all the bits of juicy information we can pass on to any holidaymaker visiting the area, we also have our ears to the ground and keep in close contact with our huge directory of holiday accommodation owners,' says James.' We have a brand-new section dedicated to informing our readers of up-to-date Peak District cottage last minute deals. But you'd better be quick,' he urges.' They get snapped up extremely quickly, especially in the Ashbourne area.'
With delightful Dovedale just on the doorstep, Ashbourne is a combination of great places to eat and drink, a huge selection of shops and open spaces to enjoy and also home to a little bit of peace and quiet, but also a fantastic base to explore the rest of the Peak District according to PDO.
'Researching Ashbourne has been brilliant to do for me because I have been coming here since I was a small boy,' explained Steve. 'Shops have come and gone due to the recession unfortunately, but the whole atmosphere of the place is still very much intact,' he said.
The team have recently researched the annual Shrovetide football match, which takes place and is totally unique to Ashbourne. 'It's a two day crazy activity where shops are boarded up in case of mis- adventure, but pubs throw open their doors to welcome anyone in for a quick pint, off the safety, depending on where scram is at that moment.'
Unlike a conventional game of football, the Ashbourne Shrovetide football match is played over two, eight hour periods, every Shrove Tuesday and ash Wednesday.' It's a really unique football match as the goals are actually 3 miles apart, and there are also very few rules which makes it wonderful to watch as people scurry into the river even trying to catch the ball.'
The team of Peak District Online say this is just one little gem of Ashbourne they have discovered but there are several more to see on their new pages dedicated to the market town of the Peak District.
See the brand-new page is all about Ashbourne and other villagers as they launched regularly at http://www.peakdistrictonline.co.uk. Learn about the history and the inhabitants of Ashbourne and why not sign up to the newsletter to be kept informed of any relevant information as it's released as to keep an eye on their Peak District accommodation last missed minute deals to grab a bargain