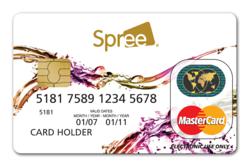 MySpree card gives a lot for very little, and, at a time when many people are feeling the pinch due to pay rises and bonuses from employers being less feasible, these savings will have a remarkably positive impact across any workforce.
(PRWEB) August 02, 2012
Companies register for the MySpree card program and can then offer to their employees as a benefit. There is an initial fee for a staff member to sign up to the card – currently £4.99 – but once registered they can load the card with value and then spend it at retail partners including Argos, Marks & Spencer, House of Fraser, John Lewis, Debenhams, Homebase, HMV, JJB Sports, B&Q, New Look, Topshop, Zizzis and Sainsbury's.
Sainsbury's and Asda currently offer 3% cashback on purchases, while all other partners offer 5% back and although cashback cards usually come with limits and small print on how much cashback can be earned, MySpree has no limits.
Developed and managed by P&MM Motivation, MySpree is a reloadable pre-paid MasterCard card which users top up with whatever funds they wish from their bank account before they use it. The cashback earned on purchases will automatically be credited to the individual's card balance when the card is next topped up with credit.
MySpree also helps cardholders to manage their spending because they can only spend their cleared balance. It can be used to pay wherever MasterCard is accepted – more than 32 million outlets worldwide – and unlimited cashback can be earned when spending at retail partners