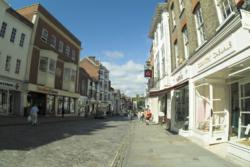 This already successful town is showing signs of increased growth that bode well for the future.
UK (PRWEB UK) 1 August 2012
Guildford: A record number of companies were set up in Guildford during the first six months of the year. 440 new companies were formed, more than any other first half year on record, and a significant improvement on the 424 that were set up during the same period in 2011.
The number of new companies is an encouraging sign in a difficult economic climate, and could be due to the pro-active approach the city is taking towards attracting new business. One of the key objectives in the most recent Sustainable Community Strategy Delivery Plan (published by Guildford Local Strategic Partnership) is that more businesses will be based in the Borough.
The plan states that it will establish "a pro-active programme of marketing to attract inward investment" and places emphasis on "providing opportunities for investment, supporting significant business clusters, ensuring the availability of land and premises, providing a planning system that supports business formation, development and growth and ensuring that there is sufficient housing stock to meet the needs of the local workforce." It also promises facilitate new businesses by providing "start-up" premises, assistance and information to potential entrepreneurs.
Managing Director of Duport.co.uk, Peter Valaitis said:
"Guildford has enjoyed a strong start to the year with a record number of new companies being formed. This already successful town is showing signs of increased growth that bode well for the future."
The record number of new businesses set up so far this year shows Guildford is a town that is remaining resilient in the face of tough economic conditions.
Duport Associates Ltd is a leading UK company formation agent, operating in the UK for around 15 years. Duport registers around 10,000 new companies each year using its Companies House approved software. The Company Register which is maintained by Companies House contains public information about Limited companies and directors.