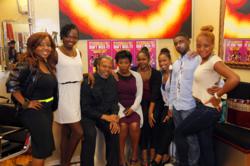 New York, NY (PRWEB) August 01, 2012
"This is the first time ever an event like this was done for us. This is fantastic," exclaimed singer/actress Melanie Marshall, who plays Fela Kuti's mother, Funmilayo Ransome-Kuti.
The collaboration proved to be a success and was enjoyed immensely by all. In addition, FELA! provided tickets to Wellington Hair Spa staff so they could experience the three-time Tony Award-winning musical.
"We were honored to host the members of FELA! and look forward to working with them in the future," said Patrick Wellington, founder of Wellington Hair Spa.
This exclusive day of pampering, organized by Monique Lewis Management, Wellington Hair Spa and the FELA! marketing team, focused entirely on providing the hard working cast a day of serenity and beauty. Shameika Bowman of Yourfacemycanvas.com did the cast members' makeup and Keston Duke of Keston Photography took pictures.
For more about the event and to seepictures, please visit http://www.whsnyc.biz. For tickets to FELA! please visit http://www.felaonbroadway.com.