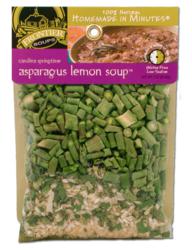 "The asparagus soup is very satisfying with the Arborio rice. Lemon juice adds a bright note that makes it perfect for a light summer supper. This is a great soup for people with special dietary needs since it is a gluten free soup and a vegetarian soup."
WAUKEGAN, Ill. (PRWEB) August 01, 2012
Frontier Soups™ is offering a 20 percent discount in August on its Homemade-In-Minutes™ line of gourmet soup mixes to celebrate the introduction of a new gluten free lemony asparagus soup mix.
The all natural Homemade-In-Minutes™ Carolina Springtime Asparagus Lemon Soup is brimming with asparagus and seasoned with tarragon, said Trisha Anderson, company founder. All Frontier Soups mixes incorporate fresh ingredients for homemade taste, and with the new Asparagus Lemon Soup mix, home cooks now have the choice of boosting nutrition and personalizing the soup to their taste by adding fresh asparagus, spinach or fennel, Anderson said. Authentic Arborio rice used in Italian risotto thickens the asparagus soup for a sophisticated presentation. A splash of lemon lifts all of the flavors. The soup gets to the table quickly since hands-on preparation time is just five minutes, and it cooks in about 30 minutes, she said.
"The asparagus soup is very satisfying with the Arborio rice, and the lemon juice adds a bright note that makes it perfect for a light summer supper," Anderson said. "This is a great soup for people with special dietary needs since it is a gluten free soup and a vegetarian soup as are many of our other soup mixes."
In addition, Frontier Soups has redesigned the packaging for all of its Homemade-In-Minutes soup mixes, including its best-selling South of the Border Tortilla Soup, to include photography of the plated soup and colorful details to make it easy to distinguish the individual soups from one another. A new graphic icon of a clock shows home cooks the amount of stovetop time each soup mix requires, which ranges from 30 to 45 minutes, Anderson said. The packaging retains Frontier Soups' signature clear cellophane to display the premium ingredients in the soup mixes, and also still identifies 13 of the 14 soup mixes as being gluten free soups.
Frontier Soups soup mixes are based on traditional regional American cooking. Each soup mix is all natural with no added salt, preservatives or MSG, including the top-selling Illinois Prairie Corn Chowder, which makes a great soup for casual summer dining or as a first course for entertaining as does the Oregon Lakes Wild Rice Soup. For more information about the company's products, including 28 gluten free soup mixes and 12 vegetarian soup mixes, check online at http://www.FrontierSoups.com or call 1-800-300-7687 (SOUP.)
About Frontier Soups:
Frontier Soups™ has offered aspiring and accomplished home cooks a shortcut to healthy, homemade meals with 33 soups, stews, chili and chowders inspired by the finest traditions in American regional cuisine since 1986. The gourmet soup mixes, including 28 gluten free varieties, are available in such outlets as A Southern Season, Whole Foods, Central Market, The Fresh Market, Safeway, Great Harvest Bread Company and Omaha Steak stores, through national and Canadian distribution and online at FrontierSoups.com. The company is located at 895 Northpoint Blvd., Waukegan, IL 60085. More information is available online or by calling 1-800-300-7687 (SOUP.)