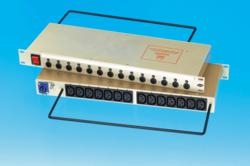 "Our new PDU gives so much more 'bang for your buck' as it sells at only around 10% more than bog standard PDUs/MDUs which do not even offer bi-colour LEDS and audible alerts, let alone the power efficient internal design we have included."
London, UK (PRWEB) August 01, 2012
Broadcast racks, IT Racks and Server farms get hot in use and will usually have adjacent aircon to cool them down to a reliable operating temperature. In these days of high energy costs and 24/7 operation, this inefficiency will raise operating costs over time.
Bryant Unlimited's new Power Distribution Unit PDU 114PEA has an intelligent micro-controller based design to reduce energy otherwise wasted within the PDU.
The PDU 114PEA features 14 IEC outlets, each with an associated bi-colour LED to show outlet status. A great many PDU products have mains LEDS using resistors to drop the mains voltage to supply the LED, throwing away 99% of the power within the PDU itself as heat. In the Bryant PDU 114PEA, a dedicated bespoke power supply is used to reduce the power consumption of the LED circuit to less than 0.5W, whereas typical products fitted with mains LEDS consume 10W.
Bryant's Technical Manager Simon Quill said "Just about every 19 inch rack in broadcast, OB or general IT setups will have at least 1 PDU in it to distribute mains power."
"Our new PDU gives so much more 'bang for your buck' as it sells at only around 10% more than bog standard PDUs/MDUs which do not even offer bi-colour LEDS and audible alerts, let alone the power efficient internal design we have included."
"It includes a custom micro-controller to measure the presence of mains voltage on each outlet and only when voltage is detected is the corresponding LED set to green. Each unit is fitted with a piezo sounder which can be enabled to give an audible warning when a fuse fails. The sound generated, its irritation factor and the length of time it will sound are all programmable from the front panel pre installation."
A Neutrik powerCON inlet connector is used to give an overall current capacity of 20 Amps. A mating inlet plug is supplied. Each outlet is rated to a maximum of 10 amps, fitted with a 3.15 Amp anti-surge HRC ceramic fuses as standard.
To avoid damage caused by high fault currents, these units are fully wired internally and do not put power across cheap PCBs. The new PDUs are available in two versions, the PDU 114PEA fitted with an on-off switch, or NDU 114PEA fitted with a neon indicator, for secure applications.
The PDUs are UK made and available from stock at pretty much the price of the PDUs you may be currently buying.
Contact Bryant Unlimited: sales(at)bryant-unlimited.co.uk or visit:
http://www.bryant-unlimited.co.uk/PDU114P
...........................................
About Bryant Unlimited
Since 1982 the company has helped solve the 3 I's - Interconnection, Interface and Installation - of signal management in the Broadcast and Communication industries and has grown consistently to become the engineer's acknowledged service leader across those sectors.
The Bryant Unlimited catalogue contains 'best choice' solutions for the technical install, sourced from world leading manufacturers or designed and built in-house to solve the engineer's dilemma. Our facilities include modern metalwork fabrication, assembly and wiring workshops able to cope with most interface problems. As an example, Bryant Unlimited launched the first truly HDTV capable MUSA U-Link patch system, designed and built in the UK.
The company is large enough to offer the best in service and product availability whilst small enough to still pay attention to detail at the design and manufacturing level.
Relocation to new warehouse and production facilities has enabled the addition of other areas of systems integration, including lighting and sound, IT networking, A/V and electrical installs to our product portfolio.
A truly single source supplier for everything needed to get audio or professional video signals from A to B via copper or fibre cables, connectors, power units, racks, metalwork, optical fibre, media converters, cable assemblies, jackfields, patch panels, data network products, monitoring and test equipment, Bryant Unlimited is dedicated to customer requirements, despatching products daily across the UK and worldwide with full export documentation.
Contact for further information
Bob Hart (Marketing)
Simon Quill (Technical)
Tel: +44 (0) 20 8404 4050
Fax: +44 (0) 20 8404 4080
Email: bob(at)bryant-unlimited.co.uk