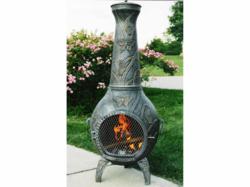 Customers will enjoy their patio furniture purchases even more when they add a fire pit!
Natick, MA (PRWEB) August 01, 2012
Premiere Adirondack Chairs, a leading online patio furniture retailer, is now offering fire pits and chimeneas in addition to a full suite of patio furniture.
These fire features are the perfect patio accessories to offer customers, according to Doug Hopeman, who decided to add them to the company's vast inventory as part of a site-wide expansion implemented in 2012.
"Customers will enjoy their patio furniture purchases even more when they add a fire pit or chimenea to keep them warm in the evening. These accessories extend the outdoor living season, making it easy to enjoy the great outdoors more often," Hopeman said.
A large selection of sturdy metal fire pits and chimeneas include those by brands like Oakland Living, Patina, Uniflame, and Blue Rhino, to name a few. Fire pits are available in both wood-burning and gas- and ethanol-burning models, while chimeneas are exclusively wood-burning options.
Fire pit and chimenea styles vary, with something available for virtually all spaces and tastes. Rustic metal patina fire pits, elegant cast iron fire pits, and glowing copper fire pits are just a few examples.
Customers furnishing elegant outdoor living spaces will appreciate granite gas fire tables and shimmering cast iron chimeneas featuring lovely engraved detail.
All fire pit and chimenea products are designed for maximum outdoor durability, so customers may enjoy them, along with their patio furniture, for many seasons.
Adding fire pits as well as many new patio furniture lines to the company inventory this year coincided with a site-wide redesign, aimed at creating an easy and pleasant shopping experience for customers. Now, shoppers easily peruse the site, and have the most outdoor furniture and accessory options at their fingertips anywhere online.
Premiere Adirondack Chairs was founded in 2008 as an online store primarily focused on selling Adirondack Chairs and furniture. The company grew rapidly after Hopeman purchased it in 2011. Sales and marketing is located in Natick, Mass., about 15 miles west of Boston.