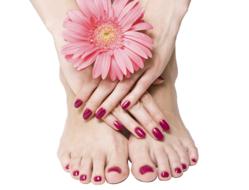 "...when visiting a nail salon, the risk of germs spreading is higher... "
(PRWEB UK) 2 August 2012
One cannot imagine how many customers visit a nail salon in a weekly period– most of which receive a similar service. Nails are cut & filed, hands and feet are soaked in tubs, cuticles are pushed back and trimmed and calluses are removed.
As expected, the same equipment makes contact with limitless number of customers on a daily basis– but how often, if at all does a nail technician disinfect these miracle working tools?
More than any other part of the human body, the hands make the most physical contact in everyday life, causing the hands to be the first to capture germs. So it is of no wonder why when visiting a nail salon, the risk of germs spreading is higher as hidden microorganisms travel from manicure kits to a customers nail bed.
Once a nail is infected it can take up to 10 months for a new healthy nail to grow back and replace the infected nail. That is to say 10 months of yellowy– green discoloured and brittle nails that can only look visually repulsive and unattractive.
Killing germs that may cause nail infections should be considered before infections take control!
Krystal Clean Nail is designed to kill 99.9% of fungus, bacteria and viruses -all germs that may cause nail infections. The solution is formulated to effectively allow the nails to be free from germs whilst keeping the hands and feet looking beautiful– as unlike some other products, Krystal Clean Nails can be used with the acrylic nails and nail vanish.
The 29ml clear solution comes with a buffer nail file to complete the look of beautiful nails as well as keeping them strong and healthy using powerful ingredients:
-Benzalkonium Chloride– Kills 99.9% of germs.
-Aloe Vera-Conditions & locks in moisture.
-Urea– Hydrates and smoothes the surrounding skin.
A last touch, pocket size solution to prevent a visit to a salon from becoming a trip to the doctors. The Krystal Clear solution for healthy nails.