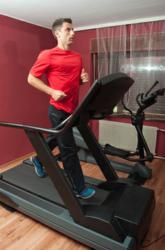 It's not necessary to pay the M.S.R.P. for a treadmill in today's online treadmill climate. There are usually excellent sales to be found if you look for them.
(PRWEB) August 01, 2012
Fitness-Baron.com published updated treadmill sale listings for a major treadmill brand for August 2012.
The treadmill dollar-value discounts and savings range from $400 to over $1,000 depending on the model. The discount is the dollar value off of the manufacturer's suggested retail price.
The type of treadmills represented include both folding and non-folding treadmills. The sale price range across all treadmill sale listings is $849 to $2,299.99. The price points offer entry-level to peak performance treadmills, including one treadmill suitable for both residential and commercial use.
One the most popular treadmills for home use, the Sole F80, is presently on sale for $1,199.99, with a regular price of $2,099.99.
Each treadmill listed is motorized, offers power incline, on-board computer and is outfitted with cushioning technology. The differences in specifications across the sale listings pertain to running surface length, motor power, top speed and the warranty.
Fitness-Baron.com is a fitness website that provides free information on how to get workouts done efficiently. One perspective is setting up a home gym with fitness equipment to avoid time spent going to gym facilities. Fitness-Baron.com also provides updated sale listings and reviews on top brand treadmills.
For more information, visit:
http://www.fitness-baron.com/sole-treadmill-sales-and-discounts/