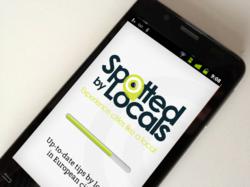 We spent much of the last 3 years traveling around Europe, to meet all our local writers in person.
Amsterdam, Netherlands (PRWEB) August 01, 2012
The Android app builds on the success of Spotted by Locals' very successful iPhone app. All tips and maps are available 100% offline, eliminating data roaming or the need for wifi availability.
Co-founder Bart van Poll said, "The launch of Spotted by Locals' iPhone application in 2011 has been a big success. Since Android currently has a 60% market share in smartphone operating software, we understand the impatient e-mails we've been getting from Android users... We are super excited to have launched the world's first 100% offline Android city guide apps with always up-to-date tips by locals and hope the Android user community will forgive us for the delay!"
Although the app offers some unique technical features, it's the up-to-date insider tips that the married travel-addicted founders, Sanne & Bart van Poll, are most proud of. Sanne van Poll: "We spent much of the last 3 years traveling around Europe, to meet all our local writers in person. Spotters, as we call them, are only selected if they speak the local language, live in the city, and of course: are absolutely in love with their city!"
Bart van Poll: "Spotters write about spots that are often hidden to tourists, and not found in guidebooks: bars without a name sign, the hippest underground nightclub in the outskirts, the best place to have a picnic with locals, etc. This makes you experience their city like a local."
A fully functional test version with 5 free tips is available for free in the Google Play Android App store for of all 41 Spotted by Locals cities. Downloading the full version of a city, including updates for life, costs Euro 3.99.
About Spotted by Locals
Spotted by Locals (http://www.SpottedbyLocals.com) is a publisher of cityblogs, downloadable guides and mobile applications that offer modern travelers the opportunity to experience cities just like a local. All tips, personal favorites of 204 handpicked local bloggers in 41 European cities, are always up-to-date. Spotted by Locals won various awards for its guides, including a Lonely Planet travel blog award and Guardian & Observer best travel website award.