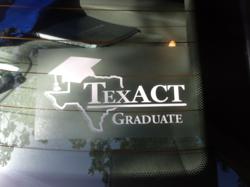 (PRWEB) August 01, 2012
Several hundred graduates of Texas Academy of Career Training (http://www.texact.net) will be able to place a window decal on their car announcing their accomplishment.
"We are excited about these new decals we are giving our graduates," said Holly Arbuckle, TexACT director. "It is a way to let the world know of the success our graduates have earned."
Arbuckle went on to say that most graduates of Texas Academy of Career Training are working in the health professions, as nurse aides, phlebotomists, pharmacy technicians and more. Still others are continuing their education, either at TexACT or at another institute of higher education.
Career training is a fast growing sector of the education community. There are many professions, especially in the medical field, that do not require traditional college. Obtaining the industry certified credentials that are required for entry level careers in the health professions is quick and easy at Texas Academy of Career locations. TexACT (http://www.fb.com/texact) has locations in Ennis, Marble Falls, Lampasas and Wichita Falls. More information is available at http://www.texact.net.