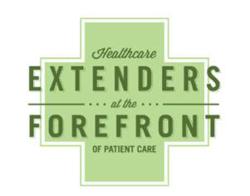 Healthcare organizations hoping to drive behavior change among patients and care partners need to recognize the growing influence of healthcare extenders in the clinical encounter
Clark, NJ (PRWEB) August 01, 2012
HealthEd Academy, a source of actionable healthcare market research today released results of a study that shows healthcare extenders—non-MD health professionals who work directly with patients—have growing influence on healthcare decisions in an increasingly digital landscape.
More than half of respondents said they refer patients to credible Web sites, with 82% of those working in private practices and 60% of those in outpatient clinics saying they refer. Healthcare extenders are increasingly in position to suggest Web resources because patients are engaging them in discussion: 59% of respondents said patients "often" or "sometimes" bring information from the Internet to discuss. Yet healthcare extenders are also concerned about the credibility of online content and the ability of some patients to make use of it. A significant minority (30%) of respondents said they are concerned patients are often unable to find content that's reputable online, while 50% said a key barrier to patient technology use is that patients with low health literacy or socioeconomic status, as well as older adults, are simply not familiar with using technology to manage their health. It's one of the reasons why 95% of those surveyed continue to use printed handouts for patient education.
Study findings are presented in Healthcare Extender Lens, a new report series now available for free download at http://www.HealthEdAcademy.com. The first issue, "Educational Technology In The Healthcare Setting," addresses 5 main barriers to healthcare extenders' use of technology and 7 emerging opportunities for how technology can motivate, inspire, and educate patients.
"The findings show that healthcare organizations hoping to drive behavior change among patients and care partners need to recognize the growing influence of healthcare extenders in the clinical encounter, particularly as healthcare reform places greater emphasis on the role of non-MD health professionals," said Susan Eno Collins, MS, CHES, RD, SVP Health Education Research & Development at HealthEd. HealthEd Academy is a division of HealthEd.
Collins said: "While electronic health records (EHR) will be the backbone of coordinated sharing of healthcare data, the report highlights the barriers and opportunities that lay ahead as we move from data sharing to using the technology to help inform, teach, and engage patients."
She said the study—conducted with 155 healthcare extenders in spring 2012—uncovered a correlation between extenders' exposure to EHRs and their likelihood of embracing educational technology. While 63% of respondents said they work in organizations that already use EHR, 75% of those respondents reported having used mobile apps for professional purposes. Only 21% of those working in non-EHR facilities reported having used apps for professional purposes.
Other key findings include:

Little devices have big potential. Even though only 15% of respondents said they use a tablet for interacting with patients, about 6 in 10 said they wish they had one for patient interactions
Healthcare extenders are using digital content. For example, 44% of respondents said they use online videos from sites like YouTube to deliver patient education
Technology doesn't have to be cutting-edge to be effective. In fact, 69% of respondents use a PC for interacting with patients and 55% print out online material to use with patients during a visit
The full report can be downloaded for free at: http://www.HealthEdAcademy.com.
About HealthEd Academy
HealthEd Academy, a division of HealthEd, was created to foster research and development in health education. We aim to connect healthcare organizations with fresh thinking and actionable ideas. Through SurroundHealth, our online learning community, and other partners we generate a deep understanding of how people are taking charge of their health. To learn more about working with us, please visit http://www.HealthEdAcademy.com.