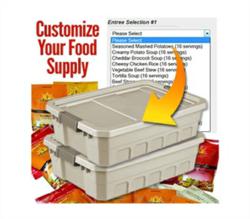 (PRWEB) August 01, 2012
My Patriot Supply is proud to announce the launch the first and only fully customizable emergency food plan. Where other emergency food packages simply include preset selection of meals, My Patriot Supply's emergency meal supply allows you to customize your menu. Simply use the convenient drop down menus to select your preferred breakfasts, entrees, fruit medley, and optional whey milk.
About the Fueled by eFoods Emergency Food Plan

25 year shelf life
No added MSG and Non GMO
Utilizes low-heat dehydration process to seal in the flavor and high-nutritional value
Packaged in convenient, portable, lightweight 4-serving mylar pouches
Very easy to prepare: simply boil water, pour the food and simmer for 10-15 minutes
3, 6, and 12 month options (or any 3 month increment you require)
Easily the best tasting survival food on the market
Free shipping!
Survival Food Options

Almond Coconut Granola
Whey Milk
Apple Cinnamon Oatmeal
Cheddar Broccoli Soup
Creamy Potato Soup
Chicken Alfredo Pasta
White Cheddar Sauce Pasta
Cheesy Chicken Rice
Vegetable Beef Stew
White Cheddar Sauce Pasta
Seasoned Mashed Potatoes
Potato Cheddar Soup
Pasta Fagioli Soup
Minestrone Soup
Tortilla Soup
Beef Stroganoff
Chicken Noodle Soup
Au Gratin Potatoes
Chili With Dumplings
Fruit Medley
Tropical Fruit Medley
About My Patriot Supply
http://www.MyPatriotSupply.com is North American's premiere online survival supply and equipment store. Founded on a passion for self-reliance, preparedness and freedom, My Patriot Supply offers top quality survival equipment and products, including the world famous Survival Seed Vault featuring 20 varieties of heritage seeds.